Carngham
Carngham, once a gold mining township, is a pastoral locality 25 km west of Ballarat. Its gold field was at the edge of a mining district which ran south-easterly to Snake Valley.
Carngham was the name of a pastoral run taken up in 1838 and is thought to be derived from an Aboriginal word which described a hunting or camping area.
In 1855 gold was found at Carngham, and a rush of several thousand miners occurred in 1857. The rush preceded by a few months the opening of the gold field at Snake Valley. Gold mining continued for over 20 years as leads were worked along the Baillie Creek. A township was surveyed, and Bailliere's Victorian gazetteer (1865) recorded Carngham as having alluvial and quartz workings, a court house, a mechanics' institute, the Carngham Road District's office (1861) and two hotels. There was also a school, opened in 1856.
Carngham was set in a locality dominated by pastoral estates, and the Carngham property was one of the largest. Its proprietor, Philip Russell (cousin of the legendary George Russell of 'Golf Hill') donated £12,000 to build the spectacular Carngham Presbyterian church (1893). It outdid the Anglican church (1876) which was nevertheless a building of respectable proportions.
Philip Russell also built a school house, mens' quarters and stables (1886) on the Carngham estate and, along with a later homestead (1920), they comprise an impressive suite of buildings. The stables are on the Register of the National Estate. The Carngham Station homestead was destroyed by a bushfire that swept through 1300 hectares in the Chepstowe area in 2013. The homestead was being restored.
In 1903 Carngham was described in the Australian handbook: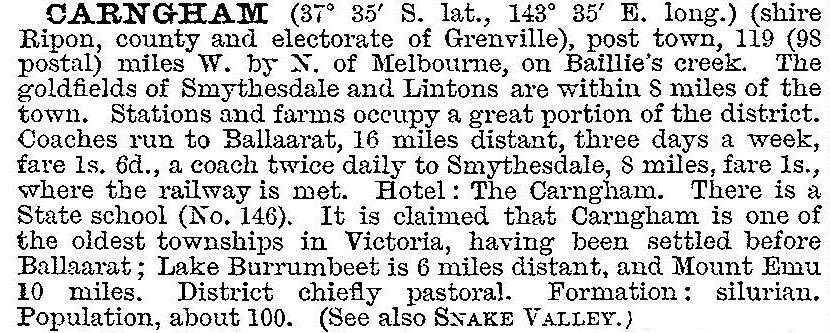 The school closed in 1911, but was reopened in 1958 after the Carngham estate had been subdivided for soldier settlement farms. By 1969 the school's enrolment was fewer than 10 pupils, and it closed shortly after.
Carngham has a scattering of buildings and two churches. Its census populations have been:
| census date | population |
| --- | --- |
| 1871 | 1693 |
| 1881 | 611 |
| 1891 | 126 |
| 1911 | 122 |
| 1933 | 73 |
| 2011 | 411 |
Further Reading
Hugh Anderson, The flowers of the field: a history of the Ripon Shire, Melbourne, 1969
Reflections, Snake Valley and district, 1989, Jim Crow Press, 1990
David Williams, Beaufort revisited: a sketchbook, Beaufort, 1990