Cudgewa
Cudgewa, a rural village in north-east Victoria, is about 45 km east of Lake Hume. The nearest large town is Corryong, 11 km to the east of Cudgewa.
In 1837 a New South Wales pastoralist took up the Cudgewa pastoral run, adjoining the west side of the Cudgewa Creek which flows north-east to the Murray River. It is thought that the name was derived from an Aboriginal word describing a kangaroo skin.
In 1866 the first farm selectors took up land at Cudgewa, among whom was James Briggs. The creek flows through a wide valley suitable for agriculture and intensive grazing, and there is similar land at Corryong. The Cudgewa Creek school was opened in 1877.
James Briggs pioneered two local industries, the first being a flour mill (early 1880s) and the second a dairy factory (1892) powered from the same engine source as the flour mill. He also built a portable sawmill. The Cudgewa Dairy Company moved its operations to Corryong in 1899, to be closer to the centre of the Upper Murray dairying area. It took over the Walwa dairy factory in 1962.
In 1903 Cudgewa was described in the Australian handbook: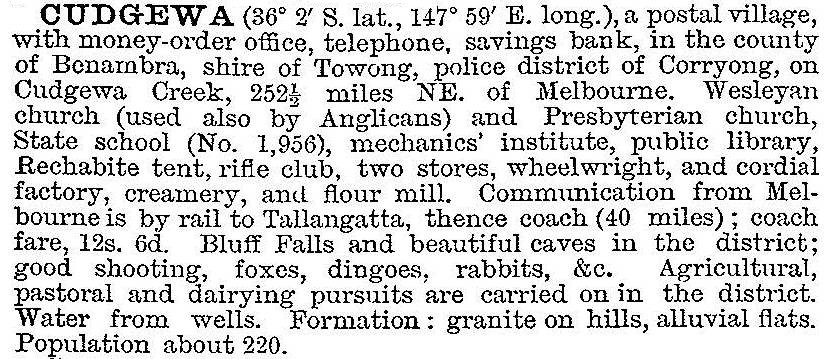 The Upper Murray district was without a railway until 1891 when a line was opened from Wodonga to Tallangatta, on the western edge. An eastwards extension to about midway between Tallangatta and Cudgewa was built in 1916, and a further extension to Cudgewa was completed in 1921. The line's steep grades included Victoria's highest altitude railway station at Shelley, a place often beset by snow.
Despite having the railway terminus, Cudgewa did not grow at the expense of Corryong. It had prosperous dairying and grazing, but Corryong was positioned as the district's centre.
Cudgewa's primary school closed in 1974 and the railway closed in 1981. Despite those losses Cudgewa retains a public hall, Anglican and Uniting churches, a hotel and a recreation reserve. The avenue of honour and war memorials are impressive and a railway trestle bridge is heritage listed.
Cudgewa's census populations have been:
area
census date
population
Cudgewa
1891
42
 
1911
264
 
1921
296
 
1933
338
 
1954
257
 
1961
380
Cudgewa and environs
2006
237
 
2011

*

413
*census area differed from 2006
Further Reading
Jean Carmody, Early days on the Upper Murray, Wangaratta, 1981
Lloyd Holmes, The branch line: a history of the Wodonga-Tallangatta-Cudgewa railway, the author, nd
T.W. Mitchell, Corryong and the 'Man from Snowy River' district, Albury, 1981
Royal R. Miller, The Upper Murray: a centenary survey with special reference to the Corryong district, Melbourne, 1934