Dimboola Shire
Dimboola Shire (1885-1995), about 350 km from Melbourne, was originally part of Lowan Shire in the Mallee region of north-west Victoria. Lowan Shire's two main towns were Dimboola and Nhill, with the shire's offices at Dimboola until 1882 and at Nhill thereafter. The two centres are about 40 km apart, and much of Lowan Shire's rates were spent on rabbit suppression in the Nhill district.
These factors promoted feeling for severance of the Dimboola district and its formation as a separate shire, which occurred on 2 April 1885. Its area was about 11,660 sq km, which included parts which were later transferred to Borung Shire (1896), Karkarooc Shire (1898), Walpeup Shire (1914) and elsewhere, producing a final area of 4856 sq km.
Dimboola was very near the shire's southern boundary, which was 60 km from the northern boundary near the middle of the Wyperfeld National Park. The shire's east-west width was half this distance. Consequently the other main population centres of Jeparit and Rainbow were along the northerly railway line and the Dimboola-Rainbow Road, which more or less parallels the Wimmera River to Lake Hindmarsh. The shire alternated its council meetings between Dimboola and Jeparit until 1915, when the offices were moved to Jeparit. A new shire office was opened at Jeparit in 1925.
Railway services in the shire comprised the Dimboola-Nhill line (1887) and the Dimboola-Jeparit-Rainbow line (1894, 1899). Many stations were dispatch centres for wheat crops and silos or bunkers were built.
In 1946 Dimboola shire was described in the Australian blue book: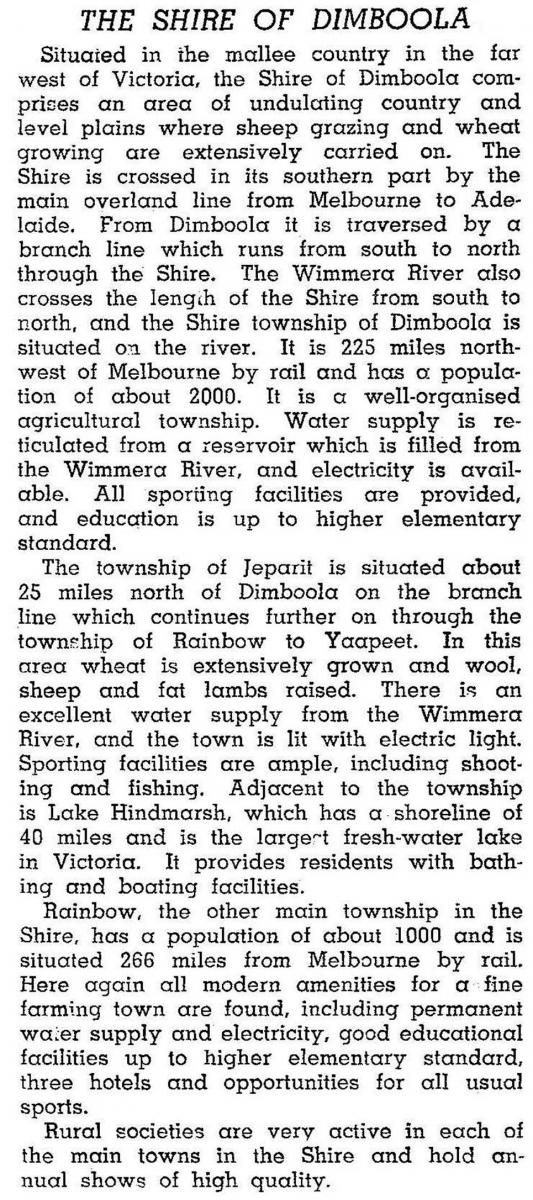 Many of the shire's inhabitants were of the German-Lutheran tradition. There have been Lutheran churches and schools at Arkona, Dimboola, Katyil, Kornheim and Pella, and churches at Jeparit and Rainbow. The church and buildings at Pella are a remarkable testament to a community which farms at the edge of Mallee settlement near Wyperfeld National Park.
In 1994 farming occupied 46% of the shire's area, on which 165,000 sheep and lambs were grazed, and from which 117,500 tonnes of wheat and 110,800 tonnes of barley were harvested. The unfarmed areas are mainly in the Wyperfeld and Little Desert National Parks.
On 20 January 1995, Dimboola and Lowan shires were united to form Hindmarsh Shire. The shire's main office is at Nhill, and Dimboola has a customer service centre.
Dimboola Shire's census populations were:
| census date | population |
| --- | --- |
| 1891 | 3741 |
| 1921 | 6269 |
From 1933 the shire's boundaries were unchanged and the census populations were:
| census date | population |
| --- | --- |
| 1933 | 7030 |
| 1961 | 6038 |
| 1976 | 4721 |
| 1991 | 4058 |
Further Reading
Anne Longmire, Nine creeks to Albacutya: a history of the Shire of Dimboola, 1985
Antwerp, Dimboola, Gerang Gerung, Jeparit, Katyil, Kiata, Rainbow and Tarranyurk entries