Doncaster and Templestowe
The municipality of Doncaster and Templestowe began as Bulleen Shire (1875), which was divided into Doncaster Shire and Templestowe Shire in 1890 and which were reunited on 1 October 1915. Known first simply as Doncaster Shire, the name was changed to Doncaster and Templestowe on 16 March 1926. Its area was 89.4 sq km.
The development of the districts comprising the shire is discussed under their names. All were predominantly rural until the postwar years and unserved by fixed rail public transport. Their isolation from metropolitan Melbourne was the greater for their being bounded on the north and west by the Yarra River and its tributary, Koonung Creek on the south.
Prior to the municipality's postwar suburbanisation, the Australian blue book, 1946, described Doncaster and Templestowe: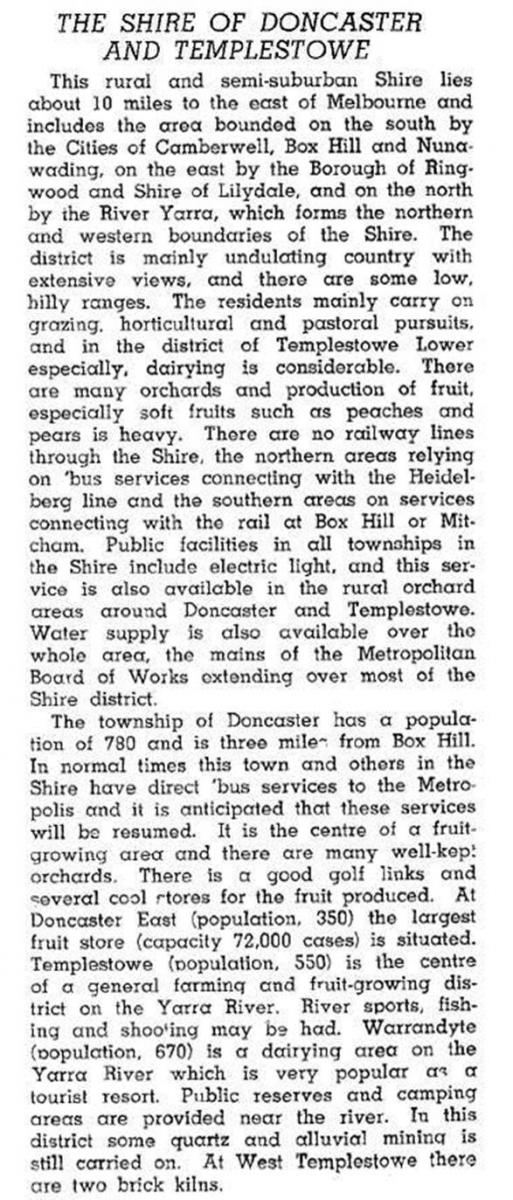 The most eastern part of the municipality contained Doncaster, Park Orchards and the old town of Warrandyte. On 28 February 1967, the shire was made a city, by when its population was growing at 10% annually. In 1986 the municipality had high rates of home and car ownership: 86% of homes were owned or being purchased (metropolitan average 73%), the median house price was $122,000 (metropolitan median $82,000) and 65% of households had two or more cars (metropolitan figure 40%). The median house price in 1994 was 38% higher than the metropolitan median, a fall from the 49% in 1986. Doncaster and Templestowe city was amalgamated with Wonga Park (east of Warrandyte) to become Manningham city on 15 December 1994.
The municipality's census populations were:
| Census date | Population |
| --- | --- |
| 1911 |  1195 |
| 1921 |  2584 |
| 1933 |  2985 |
| 1947 |  3786 |
| 1954 |  6814 |
| 1961 | 19,061 |
| 1966 | 38,087 |
| 1971 | 64,286 |
| 1976 | 82,089 |
| 1981 | 93,800 |
| 1986 | 103,400   |
| 1991 | 102,892   |
Further Reading
Barbara Pertzel and Fiona Walters, Manningham: from country to city, Kew, 2001
Bulleen, Doncaster, Doncaster East, Donvale, Park Orchards, Templestowe, Templestowe Lower, Warrandyte and Warrandyte South entries