Frankston City
This entry is about the Frankston local government area.
Frankston and Hastings Shire on the Mornington Peninsula, the forerunner of Frankston city, was formed on 31 May, 1893, by severance from Mornington Shire. It retained the name Mornington, and the residue of Mornington Shire was named New Mornington. Such an ambiguous situation did not last for long, and the names were changed to Frankston and Hastings Shire and Mornington Shire in 1894.
With an area of 215 sq km Frankston and Hastings Shire extended across the Mornington Peninsula, taking in Langwarrin, Moorooduc, Somerville and Tyabb. The first of these places was best known for the military camp, which in 1889 had been connected by railway to Hastings and Crib Point. The railway had a defensive purpose for moving troops to Western Port Bay in the event of naval invasion. As the line went through Somerville it also served the large orchard industry on the western side of the peninsula.
The contest between Frankston and Hastings for municipal supremacy led to the compromise of putting the shire offices at Somerville in 1914. With the electrification of the railway line to Frankston in 1922 and the fairly rapid population growth, the shire offices returned there in 1926. By 1947, when the shire's population was 11,672 people, 60% were in Frankston.
In 1946 the Australian blue book described Frankston and Hastings Shire: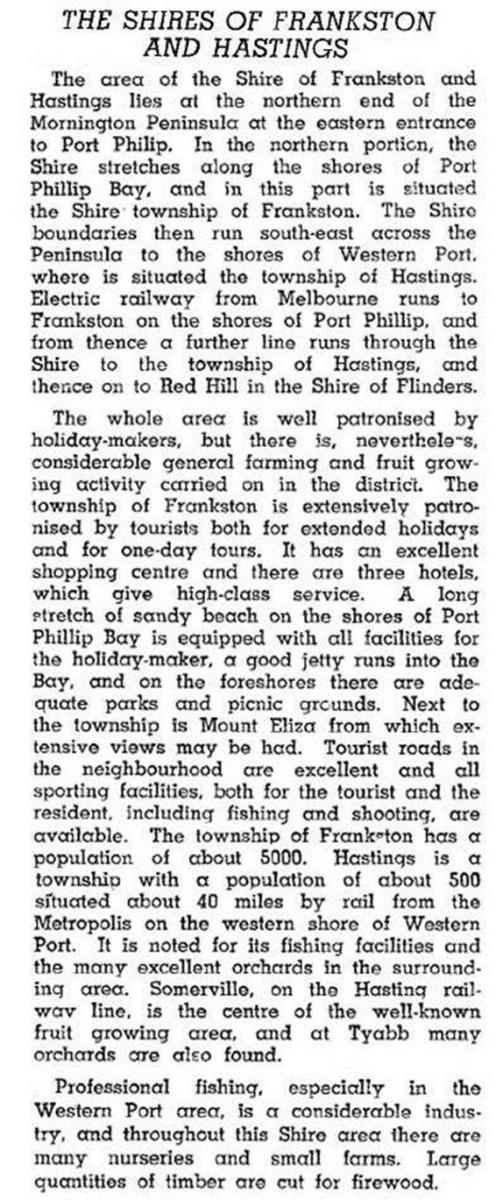 On 16 November, 1960, Frankston Shire was formed as a separate unit, and Hastings Shire was left with about 6500 people and the prospect of industrialisation around Hastings and Crib Point. Frankston entered a period of very rapid population growth and was proclaimed a city on 24 August 1966. During 1961-71 the population of the Frankston Shire grew by 122% to 59,410.
Frankston became a regional centre. Its urban area spread eastwards to Karingal and Langwarrin and merged with Mount Eliza to the south. To the north, Seaford had grown rapidly during the 1950s-60s. The growth in retailing is an example of Frankston's assumption of a regional role. In 1952-53 Frankston had 147 shops and 0.78% of retail sales in metropolitan Melbourne. In 1972-73 there were 661 shops and 2.40% of metropolitan retail sales. In 1991-92 Frankston accounted for 3.27% of metropolitan sales.
There was a considerable disparity of real estate values across Frankston city's districts and its neighbour, Mt Eliza. Frankston North's houses were mostly built by the Housing Commission.
On 15 December 1994, Victoria's local government boundaries were changed, and Frankston city's were enlarged slightly northwards and to a considerable extent eastwards, taking in Carrum Downs and Langwarrin to Dandenong-Hastings Road. The city's area was increased from 71 sq km to 130 sq km.
Census populations have been:
| area | census date | population |
| --- | --- | --- |
| Frankston and Hastings Shire | 1901 | 2301 |
|   | 1921 | 4646 |
|   | 1933 | 6851 |
|   | 1947 | 11,672 |
|   | 1954 | 18,100 |
| Frankston Shire/city | 1961 | 26,722 |
|   | 1966 | 42,085 |
|   | 1971 | 59,410 |
|   | 1976 | 74,600 |
|   | 1991 | 84,986 |
| Enlarged Frankston city | 1996 | 103,971 |
|   | 2001 | 109,808 |
|   | 2006 | 117,801 |
|   | 2011 | 126,458 |
Further Reading
Michael Jones, Frankston: resort to city, Allen and Unwin, 1989
Pre 1994: Baxter, Frankston, Frankston North, Frankston South, Karingal and Seaford entries
Post 1994: All the above plus Carrum Downs, Langwarrin and Skye entries