Gisborne and Gisborne Shire
Gisborne is a rural township on the Calder Highway, 50 km north-west of Melbourne. It was named after Henry Fyshe Gisborne, Commissioner of Crown Lands in the Port Phillip District, 1839-40.
Sheep
The Gisborne district was settled soon after Batman's and Fawkner's parties arrived at Port Phillip. In mid-1836 John Aitken brought sheep from Tasmania and grazed them on a pastoral lease at Mt Aitken, about 8 km south of Gisborne. In 1837 Henry Howey took up a pastoral station on the future site of Gisborne, on Jacksons Creek. (The same Howey also invested in land in Collins Street, Melbourne, where Howey Court was later built.) Shortly afterwards most of the land was occupied for grazing.
In 1851 the government surveyor, Robert Hoddle, prepared a map of the Gisborne township, positioned near The Bush Inn (1840) and Jacksons Creek, on the road to Mount Macedon. It was also on the road to the Bendigo gold diggings, and passing traffic caused the town to quickly grow. A school was opened in 1853, a court house in 1858 and a mechanics' institute in 1860. Anglican and Presbyterian churches were opened in 1855 and 1858. Catholic services were held in the mid-1850s and a substantial church building was constructed in 1875.
A railway line was built through the district in 1861, but passed about 3 km north of Gisborne via Clarkefield and New Gisborne. It was thought that the chosen route was influenced by the pastoralist William 'Big' Clarke, and he benefited from the sale of his land for the railway line. However, bridging the deep creek at Gisborne would have cost more than the purchase of Clarke's land for the line.
Town
A borough council and a road district were proclaimed in 1860, becoming united as Gisborne Shire on 24 February 1871. In 1865 Gisborne was described in Bailliere's Victorian gazetteer as having a court of petty sessions, a mechanics' institute, a masonic hall, a racecourse, an agricultural society, a flour mill and four hotels. The country was described as elevated with slopes of fertile soil. The township underwent minor growth by the turn of the century, but the shire's population fell by about one third between 1870 and 1900. In 1903 the Australian handbook described Gisborne: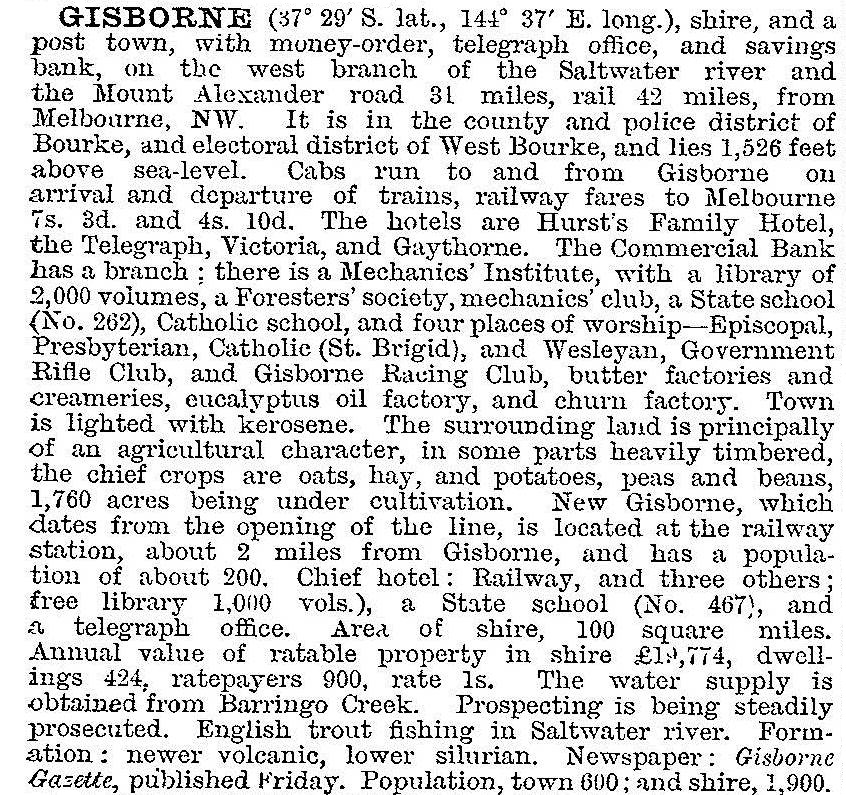 Gisborne's minor growth changed to minor contraction until the years after World War II, although there were Cherry and Sons' farm equipment factory and (postwar) Flexdrive Industries. In 1970 the Tullamarine Freeway was opened, putting Gisborne within commuting distance of outer metropolitan Melbourne. During the next 25 years the town's population tripled and town water was boosted by the Rosslynne Reservoir (1974). The Calder Highway was duplicated c1986 by the Calder Freeway which bypasses Gisborne to the north-east. Despite the barrier caused by the freeway, population growth has virtually joined Gisborne and New Gisborne to its north.
Gisborne has a hospital, a State secondary college, State and Catholic primary schools, four churches, a golf course, two ovals, a range of sporting facilities and a civic centre. It has a substantial shopping centre, including an enclosed mall with 26 shops (1989).
Gisborne has a botanic garden next to Jacksons Creek and several buildings on the Register of the National Estate: the court house and police station (1858), a corner store and two houses. Hamilton Street, east of Aitken Street, is the main heritage precinct. There is also the pre-gold rush Macedon House, originally a hotel in 1846, at the eastern end of Hamilton Street.
Shire
Gisborne Shire (1871-1995) had an area of 277 sq km. Much of it was occupied by the Macedon State forest and park, which contains the townships of Macedon and Mount Macedon. Other townships include Bullengarook and New Gisborne. Gisborne shire was described in the Australian blue book in 1946:
Sixteen percent of the shire was farmland in 1994, carrying 2450 meat cattle and 6000 sheep and lambs.
On 19 June 1995, Gisborne Shire was united with Romsey, Newham and Woodend and most of Kyneton Shires to form Macedon Ranges Shire.
Census populations have been:
census date
population
 
Gisborne
Gisborne Shire
1861
 624
 
1871
 
3345
1891
 
2617
1901
 554
 
1911
 
2090
1933
526
 
1947
 
2070
1954
 668
 
1971
 
2917
1976
1286
4736
1981
 
6943
1986
1966
8474
1991
2819
9765
1996
3758
 
2001
4228
 
2006
6248
 
2011
7289
 
In 2014 Gisborne secondary college had an enrolment of 1009 and the State primary school's enrolment was 405. (New Gisborne's primary school enrolment was 506, in 2014). A bushfire in the Macedon Ranges in 2014 damaged a number of properties in Gisborne South.
Further Reading
Back to Gisborne 1954, Gisborne, 1954
H.P. Dixon, Early settlement of the Gisborne 'Bush Inn' district, the author?, 1981
Malcolm Grant and Sue Jarvis, A walk through old Gisborne, Gisborne Promotions, 1993
Pictorial Gisborne: a journey through time 1851-2001, Mt Macedon, 2001
Bullengarook, Macedon, Mount Macedon and New Gisborne entries