Maffra Shire
Maffra Shire (1875-1994), east Gippsland, was north of Sale and generally 160 km east of central Melbourne. It was named after the town of Maffra which was in the shire's south-east corner. It appears that the town was named after a 'Mafra' sheep fold on Lachlan Macalister's Boisdale pastoral run (1840-50).
Pastoral occupation of the shire's area began from Angus McMillan's Gippsland exploration in 1839. Within a little over a year McMillan's employer, Macalister, took up the Boisdale run and McMillan took up the adjoining Bushy Park run. Both runs were watered by the Avon River, which has extensive grazing flats. The shire had two other rivers: the Macalister, beginning at the shire's most northerly point, Mount Howitt, and passing through the Maffra township, and the Thompson, which was the shire's southern boundary. They converge near Sale and end at the Gippsland Lakes, the same as the Avon.
Maffra shire was proclaimed in October 1875 and had an area of 4320 sq km. It was reduced to 4167 sq km in 1917 when an eastern part was transferred to Avon shire.
Over half the shire was mountainous forest country, now part of the Alpine National Park. The high country catches heavy rainfall, ensuring well-watered lower slopes and southern plains. The plains, prone to flooding, became prosperous dairy country, despite some of the plains being in a rain-shadow area. Most towns had dairy factories: Boisdale co-operative (1900), Heyfield co-operative (1891), Maffra co-operative (1919) and Newry (1904). There was also extensive timber logging and milling, ultimately centred on Heyfield.
There was fruit and vegetable growing, and the biggest field crop was sugar beet for a beet-processing factory in Maffra (1898-1900, 1910-40). The Glenmaggie weir on the Macalister River (1925, enlarged 1947) provided irrigation for crops and dairy pasture.
Farm produce was exported by coastal/Gippsland Lakes shipping and, from 1883, a branch railway from Heyfield to Traralgon. The line further reached the shire with extensions to Maffra (1889) and Briagolong (1889). It closed in 1987.
When the Glenmaggie weir was enlarged in 1947 soldier-settlement farms were taken up in the Nambrok-Denison district in neighbouring Rosedale shire. A year previously Maffra shire was described in the Australian blue book in 1946: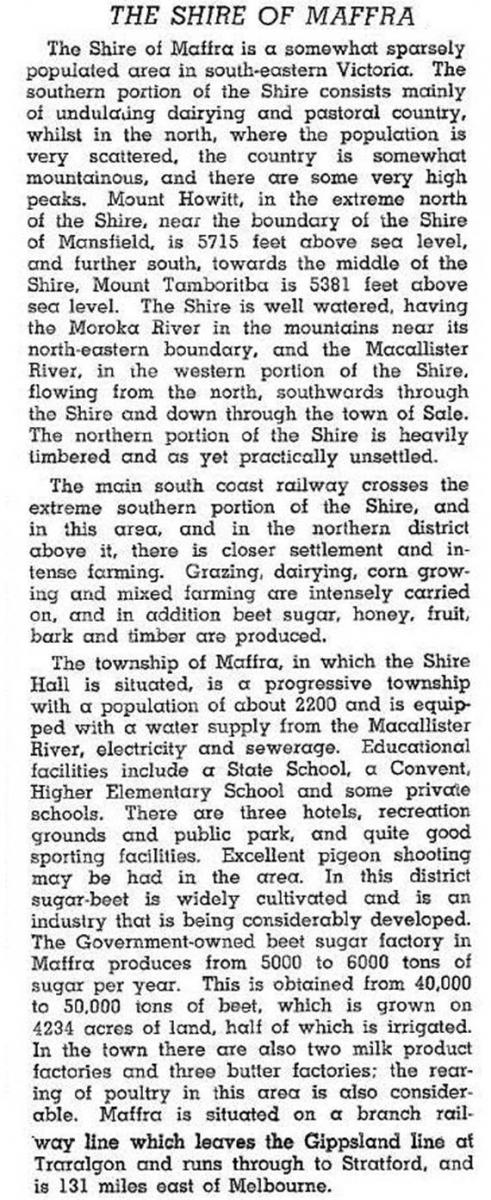 Growing milk output kept many of the local dairy factories open, but amalgamation into Gippsland Amalgamated Milk Products (1960s) and takeover by Murray Goulburn Co-operative (1970s) centralised milk processing in Maffra. Nestle also has a milk-processing factory in Maffra, operating there since 1921.
The former Maffra shire's towns are not on the main Gippsland arterial route, the Princes Highway. They have therefore retained their rural ambience, and unashamedly focused on farm life and local organisations. The main concession is the Gippsland Plains rail trail; the rest of their virtues can be searched out by inquiring tourists.
In 1994 Maffra shire had 34,500 meat cattle, 49,000 dairy cattle and 33,000 sheep and lambs. In the same year Maffra shire was united with Sale city, Alberton and Avon shires, most of Rosedale shire and part of Bairnsdale shire to form Wellington shire.
The shire's census populations were:
| census date | population |
| --- | --- |
| 1881 | 3242 |
| 1901 | 3911 |
| 1911 | 4168 |
| 1921 | 5653 |
| 1947 | 6009 |
| 1954 | 8554 |
| 1976 | 8730 |
| 1981 | 9180 |
| 1986 | 10,050 |
| 1991 | 10,670 |
Further Reading
Doris Kemp, Maffra: the history of the shire to 1975, 1975
Richard Aitken (ed), Macalister landscapes: history and heritage in Maffra shire, Bairnsdale, 1994
Meredith Fletcher and Linda Kennett, Wellington landscapes; history and heritage in a Gippsland shire, Maffra, 2005
Boisdale, Briagolong, Bundalaguah, Glenmaggie, Heyfield, Maffra, Newry and Tinamba entries