Moonambel
Moonambel is a rural village between the northern and southern slopes of a hilly range between St Arnaud and Avoca in central-west Victoria. Several watercourses from the slopes enter Mountain Creek, which was the original name of the locality when gold was found there in 1860. The creek valley had been used eight years before as part of the gold escort route from Victoria to Adelaide, and a camping place along the route was chosen as the gold field's township (1861). It is thought that the name, Moonambel, is an Aboriginal word meaning hollow in the hills.
An almost immediate rush brought substantial building activity to the township, and in October 1861 Moonambel was proclaimed a municipality. It lasted until 1864 when it was united with Avoca shire. The gold was found to be patchy, with no strong reefs to sustain long-term mining. Being in a valley, however, Moonambel had fair prospects for farming. An Anglican school (1861) was replaced with a substantial brick government building in 1875, next to reservations for Anglican, Catholic and Methodist churches. The several original hotels were reduced to one, the Commercial (1861), which continues to trade in the original building, plus extensions.
In 1903 Moonambel was described in the Australian handbook: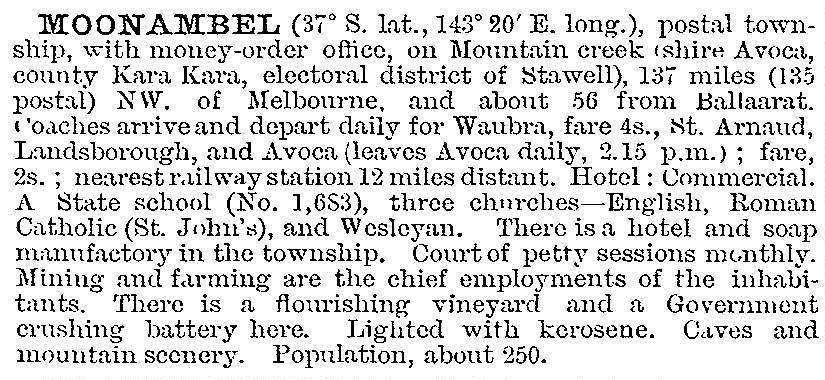 Mention of the vineyard leads to a much later development, beginning in the early 1970s, when four vineyards were established, Dalwhinnie, Summerfield, Taltarni and Warrenmang. By 2014, ten wineries comprised the Moonambel part of the Pyrenees region vineyards and around which annual festivals at Avoca are based.
Moonambel's census populations have been:
| census date | population |
| --- | --- |
| 1871 | 280 |
| 1881 | 604 |
| 1921 | 184 |
| 1961 | 105 |
| 2011 | 410* |
*and environs
The village has a general store, a public hall (1937), a hotel and a primary school (11 pupils, 2014).
Further Reading
Margery and Betty Beavis, Avoca: the early years, the author?, 1986
Merri Hogan, A hollow in the hills, the author, 2000
Merri Hogan, The invisible thread: the story of Moonambel, Moonambel, 2008
Rita and Eric Miles, Moonambel memories and over the range; a Pyrenees couple looks back, Essendon North, 2006
W. Jacobs and K. Twigg, The Pyrenees Shire: Avoca Shire heritage study 1864-1994, 1995