Sea Lake
Sea Lake is a rural town on the Calder Highway and a railway line to the Mallee region in north-west Victoria. It is 7 km south of the shoreline of Lake Tyrrell, a salty lake of about 200 sq km, which probably inspired the name of the township. Explanations vary between an early map inscribed 'see lake' and a lake which seemed as large as the sea.
After the pastoral runs around Lake Tyrrell, farm selectors arrived in the Sea Lake district in about 1890. A Sea Lake and District Progress Association was formed in 1893, coinciding with a survey for extension of the railway from Wycheproof. A few businesses opened in 1894 and the township was surveyed when the railway extension was completed in 1895. Sea Lake was a railway terminus for 19 years, an advantage for its early growth.
A Baptist church was opened in 1896, and used for a school for several years. In 1897 a hotel, public hall and the Sea Lake newspaper office were opened. The newspaper continued until merging with the Wycheproof weekly in 1971. In 1903 Sea Lake was described in the Australian handbook: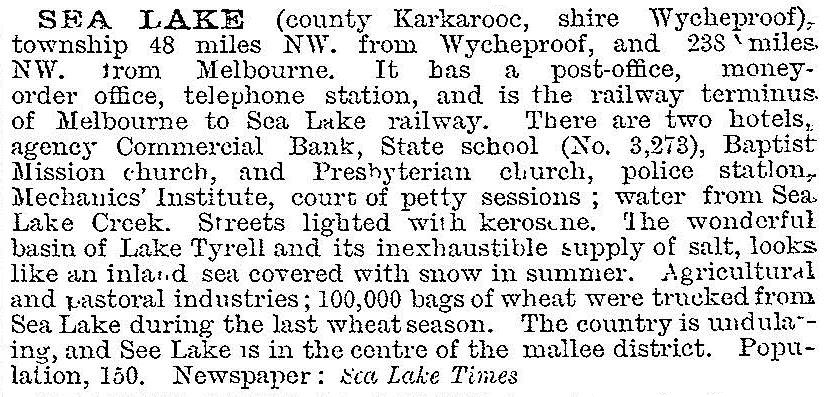 Towards 1910 water supply for farm use was improved by local storages and the State Rivers and Water Supply Commission's works. In 1904 an agricultural and pastoral association was formed. Its annual shows continued until World War II, and thereafter intermittently until the society was wound up in 1996. In 1907 a Catholic church was built and town water was laid on. An approaching population of about 800 prompted the enlargement of the school to higher elementary standard in 1919. A large memorial hall was built in 1924.
During World War II a bush nursing hospital was added (1941) and wheat silos were built (1943). The next 25 postwar years saw good farm incomes. A Catholic school was opened in 1958, a high school in 1962, improved water storages (1960) and a new hospital (1969). The 1980s and 1990s saw a gradual downturn and population decline. The closure of the agricultural society and the merger of several neighbouring primary schools and Sea Lake primary and high schools as the Tyrrell College (1-12) in 1993 are two instances. A centenary history published in 1997 contains a frank concluding chapter assessing Sea Lake's situation, observing how closures of banks and agencies also deprives country towns of local leadership.
Facilities, however, are rationalised more than eliminated. Sea Lake has a State school, Tyrell college (186 pupils, 2014), a Catholic primary school, a hospital, Catholic and Uniting churches (Anglican, church closed in 1993), a golf course, a sports complex, two ovals, tennis and bowls facilities, a swimming pool, two hotels, a motel, a caravan park, a livestock saleyard, an aerodrome, a branch office for Buloke shire, a hall and a shopping centre. As well as farming, salt is harvested from Lake Tyrrell by Cheetham Salt.
Sea Lake's census populations have been:
| census date | population |
| --- | --- |
| 1901 | 122 |
| 1911 | 854 |
| 1921 | 749 |
| 1933 | 909 |
| 1954 | 832 |
| 1961 | 948 |
| 1966 | 1026 |
| 1976 | 986 |
| 1986 | 847 |
| 1991 | 798 |
| 1996 | 694 |
| 2006 | 634 |
| 2011 | 615 |
Further Reading
Keva L. Lloyd, Then awake Sea Lake: a history of the Sea Lake district and Tyrrell Station, Sea Lake centenary committee, 1997
Keva L. Lloyd and Alan G. Mills, Sea Lake, Back to Sea Lake committee, 1973
Audrey Hart and Pamela Pook, Sea Lake Higher Elementary School No. 3273, Sea Lake, 1991
J. Edward Robertson, Progress of Sea Lake, Melbourne, 1911