Stawell
Stawell, a rural city, is on the Western Highway and railway from Melbourne to Adelaide. It is in central western Victoria, between Ararat and Horsham. To its west is the Grampians National Park, and Stawell is described as the Gateway to the Grampians (a distinction also claimed by Ararat).
Gold
Stawell arose as a gold mining locality, originally known as Pleasant Creek. Gold was found there in 1853 and intermittently northwards to Deep Lead. In 1856 a substantial find at Forty Foot Hill was the first of several rich quartz reefs to be uncovered. A population of 30,000 people was recorded at the height of the subsequent rush. The Stawell township was proclaimed in 1858, and named after Sir William Foster Stawell, Chief Justice of Victoria (1857-86).
Town
The Stawell township developed around Pleasant Creek and the Western Highway, today known as Stawell West. It is identifiable by the Stawell shire offices (1873), court house (1860) and literary scientific institute (c1874), of which the last two are on the Victorian Heritage Register. Reservations were made for churches, beginning with a Wesleyan chapel (1860), a Presbyterian church (1860) and an Anglican church (1863). The Catholics, however, sensed that future growth lay north-east, in Stawell's present civic centre, and built their church there in 1865. The others followed by the 1890s. Stawell's rich quartz reefs were in that direction.
Shire
Stawell shire was declared on 30 December 1864, and the township was made a separate borough on 12 November 1869. By then Stawell had a population of about 5000 persons, concentrated on gold mining which was undergoing expansion as miners and capital were arriving from Ballarat where gold was less easily won. The population and quartz mining relied on an inadequate water supply. John D'Acton, engineer for the borough and the shire, undertook a supply scheme involving a weir on Fyans Creek in the Grampians, flumes and a tunnel through a Grampians range. The cost was high, but the project's completion in 1881 was a triumph.
Development
In 1876 the railway was extended from Ararat to Stawell. The town became an important freight point for the Wimmera's grain and livestock, and a railways workshop and depot were added during the 1880s. A flour mill was opened in 1876. In 1878 the Stawell Athletic Club began the town's most enduring event, the annual Easter Monday Stawell Gift foot race (120 metres). It was first held in the Botanical Reserve (Stawell West) in 1878, moving to Central Park near the railway station in 1898.
In 1868 a well financed mining company began deep shaft exploratory mining north of the active quartz reefs. It was named the Magdala mine, after the Ethiopian fortress which the British Army overran in 1868. For 15 years the company unsuccessfully searched, disposing of the mine to local interests in 1884. The mine almost instantly began to pay with imaginative cross-cutting from the deep shafts, providing Stawell with income until beyond the turn of the century. When Stawell's population was about 5000 people it was described in the Australian handbook, 1903: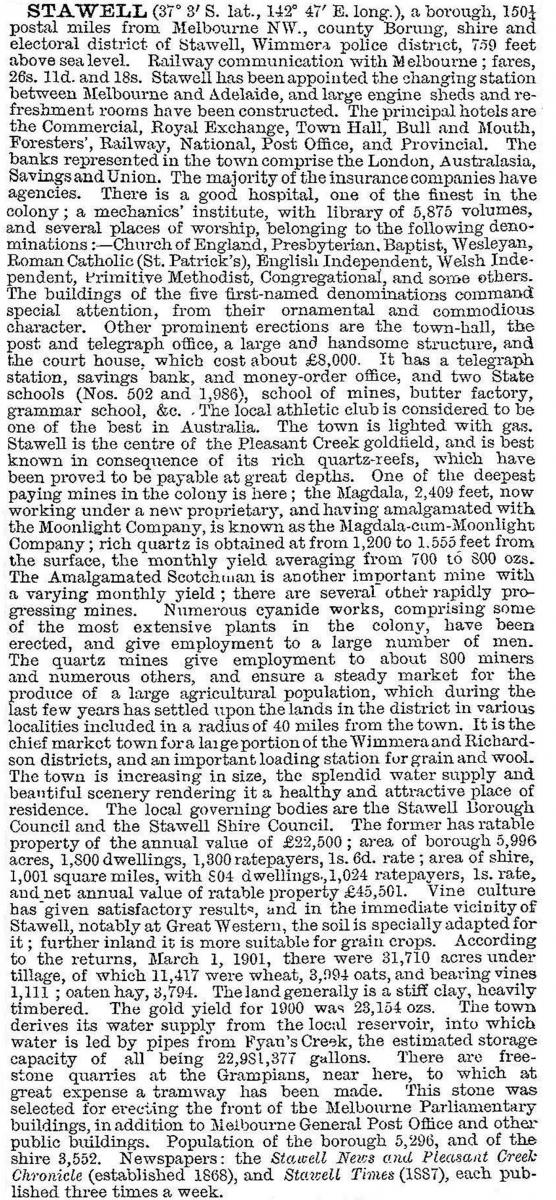 After gold
The mines closed in about 1918 and shortly afterwards the railways engine sheds were moved to Ararat. Each was a blow to Stawell's prosperity, and in 1919 the borough council promoted the formation of a locally financed woollen mill. North Western Woollen Mills Pty Ltd began operations in 1926. A local timber industry started in 1937. Stawell's population stabilised at about 4500 people, enough for a high school (1912) and a junior technical school (1916) which grew from the School of Design started in the mechanics' institute in 1916. The once-a-year tourism from the Stawell Gift, and the town's proximity to the Grampians and Halls Gap were also sources of income. In 1946 Stawell was described in the Australian blue book: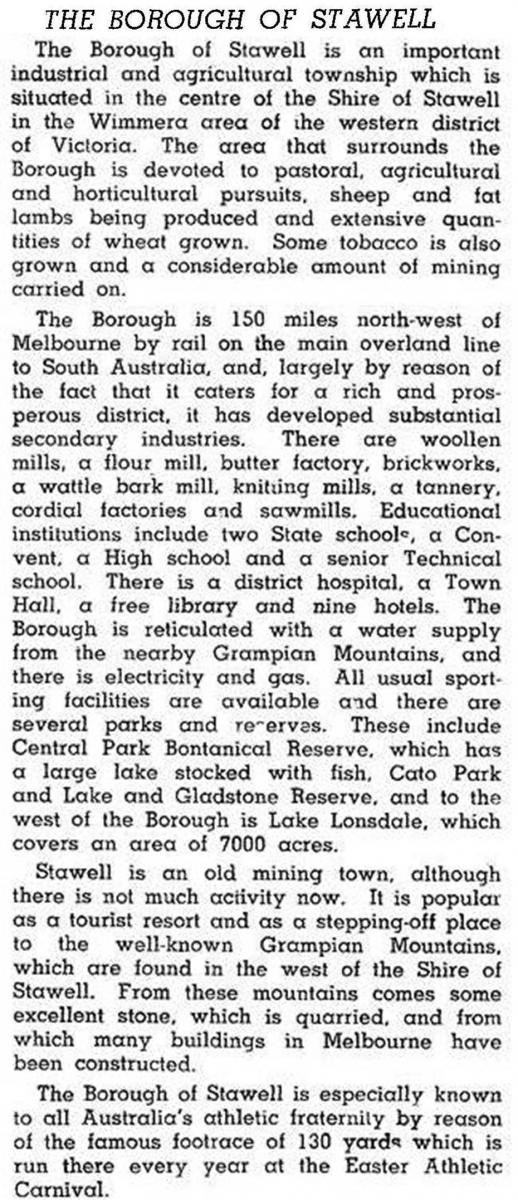 Within 20 years Stawell had been raised in status from a borough to a town, and in 1968 the council appointed a tourism promotion officer, a recognition of where much of Stawell's future prosperity might lie. Many manufacturing industries have been closed, and tourism and hospitality have grown. Mining has recommenced with open cut operations immediately east of Stawell. The town's population grew to over 6000 in 1991, the highest census figure since 1881. The town's population was more than twice that of the surrounding Stawell shire in 1991, an indication of its regional dominance.
From a time before the mines closed, until 1999, the Stawell Progress Association worked for the town's betterment. Among its projects were upgrading parks, a caravan park, pictures in the town hall, installation of memorials, fundraising for civic improvements and the promotion of tourism.
Shire
Stawell Shire contained several gold fields – Armstrong, Deep Lead and Great Western – along with Halls Gap in the Grampians and Glenorchy and Marnoo to the north in the Wimmera wheatlands. The Melbourne-Adelaide railway crossed the shire in a north-westerly direction.
Stawell shire was described in the 1946 Australian blue book: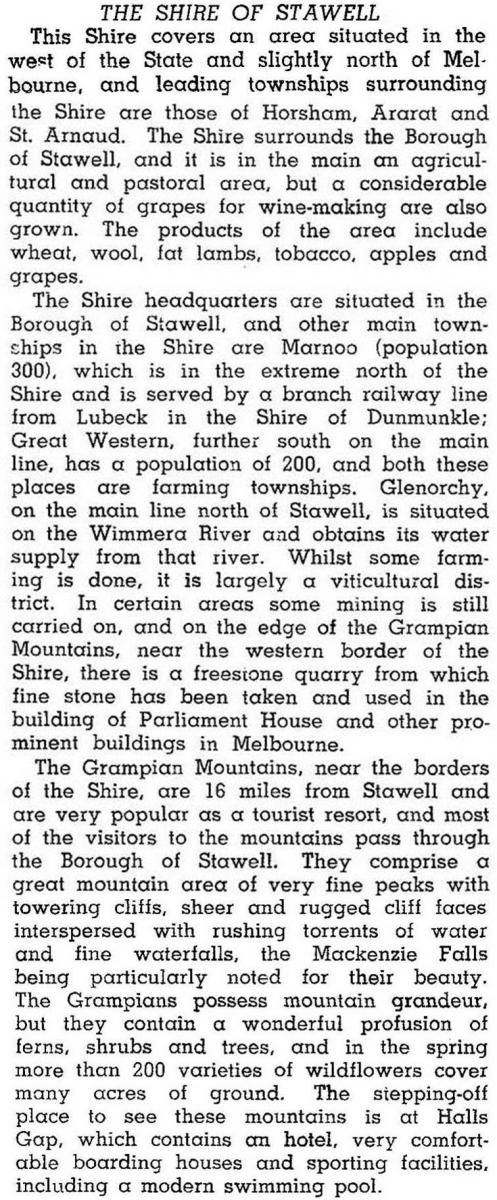 Apart from rural commodities the shire derived income from tourism and recreation at Halls Gap and local employment at Great Western's Seppelt winery. In 1994 farming occupied 68% of the shire area, on which 434,000 sheep and lambs were run and from which 30,023 tonnes of wheat and 8291 tonnes of barley were harvested.
Modern Stawell
Stawell is best known for the Stawell Gift, held in Central Park. There are several other reserves: North Park, Cato Park (named after Frederick Cato, chain-store grocer, born in Pleasant Creek in 1858), a racecourse and a harness racing track/showground. There is a full range of other sporting facilities, including the Stawell Yacht Club at Lake Fyans. A hospital (successor to the Pleasant Creek hospital, 1858) is in the middle of the town, along with State and Catholic primary schools and a State secondary college to the east. There are five motels, five hotels and two caravan parks. Stawell is the administrative centre of Northern Grampians shire, which was formed on 20 January 1995, by the union of Stawell city, most of Stawell shire, St Arnaud town and Kara Kara shire.
A proposal by the Centre of Excellence for Particle Physics was made in 2014 to set up a dark matter research facility in Stawell using disused sections of Stawell Gold Mine's underground tunnels. A proposal to create two open-cut mine pits at Big Hill was met with opposition in 2014 by the Friends of Big Hill.
Census
Stawell's census populations have been:
| census date | population |
| --- | --- |
| 1861 | 195 |
| 1871 | 5166 |
| 1881 | 7348 |
| 1891 | 5183 |
| 1901 | 5318 |
| 1911 | 4843 |
| 1921 | 4413 |
| 1933 | 4747 |
| 1947 | 4840 |
| 1954 | 5463 |
| 1966 | 5909 |
| 1976 | 6150 |
| 1986 | 6252 |
| 1996 | 6272 |
| 2006 | 6035 |
| 2011 | 5736 |
The shire's census populations were:
| census date | population |
| --- | --- |
| 1881 | 4060 |
| 1911 | 3698 |
| 1933 | 3897 |
| 1947 | 2464 |
| 1966 | 2345 |
| 1986 | 2552 |
| 1991 | 2754 |
Further Reading
Robert Kingston, Good country for a grant: a history of the Stawell shire, Stawell, 1989
Robert Murray and Kate White, The golden years of Stawell, Lothian Publishing Co, 1983
C.E. Sayers, Shepherd's gold: the story of Stawell, F.W. Cheshire Pty Ltd, 1966
H.J.Melbourne, Stawell Progress Association 1909 to 1999, Stawell, 2000
Armstrong, Deep Lead, Glenorchy, Halls Gap, Great Western, Marnoo and Navarre entries