Strathfieldsaye Shire
Strathfieldsaye Shire (1866-1994), immediately to the south-east of Bendigo, was proclaimed on 17 September 1866 and incorporated into Greater Bendigo city in 1994. It was named after the village of Strathfieldsaye.
The shire had an area of 601 sq km, extending eastwards from the Calder Highway to the Coliban and Campaspe Rivers. Its main population centres adjoined Bendigo's suburbs (Kennington and Flora Hill) and included Strathfieldsaye and Axedale to the east. The southern part of the shire included forested ridges with numerous streams and part of Lake Eppalock to the south-east. The McIvor Highway and the Heathcote-Bendigo railway line (1888-1958) were the main access routes from Melbourne.
The shire's administrative centre was in Strathfieldsaye until 1972, when new offices were opened in Kennington. The shire had an unusual succession of secretaries: Michael Brennan (1882-98), his son Richard (1898-1944) and Richard's daughter Margaret (1946-77). The succession was possibly also a testament to the district's strong Irish-Catholic community.
Apart from Kennington, the shire was separated from Bendigo by the Mandurang and Kennington State Forests, and offered some of the best agricultural land for dairy goods, fruit and vegetables for the Bendigo markets. Farms and vineyards were established along the Sheepwash and Emu Creeks and at Mandurang. Between the 1881 and 1954 censuses the shire's populations varied between 3300 and 4200, reflecting a fairly stable agricultural economy and a growing urban area in the north-west of the shire where it joined Bendigo. In 1946 the Australian blue book described the shire: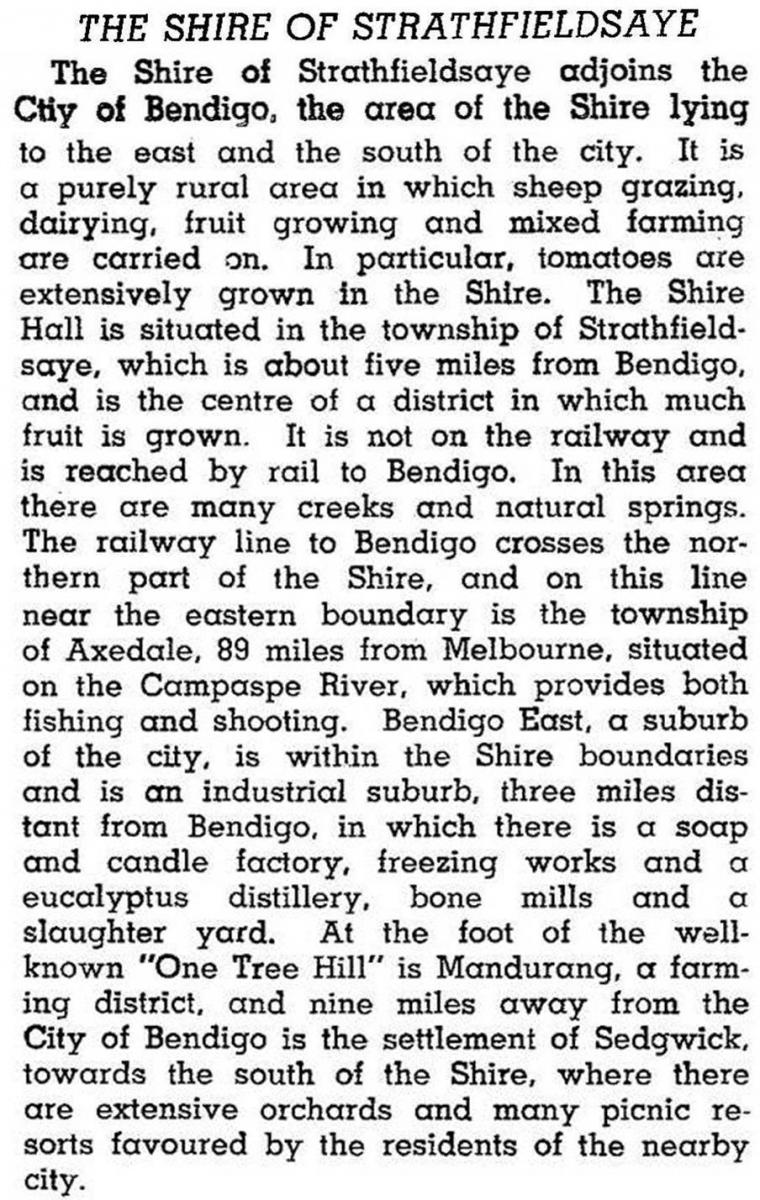 During the 1970s Bendigo's urban expansion crept beyond the State Forests, and rural/residential subdivisions were developed in Emu Creek, Strathfieldsaye and Junortown. Mandurang also experienced subdivisional development. A Catholic college was opened at Junortown and a LaTrobe University campus at Flora Hill, near the relocated Bendigo School of Mines. Between 1961 and 1991 the shire's population tripled.
In 1994, 42% of Strathfieldsaye shire's area was used for farming, mainly grazing, carrying 60,000 sheep and lambs.
On 7 April 1994, Strathfieldsaye shire was united with Bendigo and Marong Rural cities, Eaglehawk borough and Huntly shire to form Greater Bendigo city.
Strathfieldsaye shire's census populations were:
| census date | population |
| --- | --- |
| 1881 | 4035 |
| 1891 | 3365 |
| 1911 | 3807 |
| 1933 | 3501 |
| 1954 | 4213 |
| 1961 | 6011 |
| 1971 | 7711 |
| 1976 | 10,256 |
| 1981 | 12,609 |
| 1986 | 15.011 |
| 1991 | 18,456 |
Further Reading
Tim Hewat, Bridge over troubled waters: a history of the Shire of Strathfieldsaye, South Melbourne, 1983
Axe Creek, Axedale, Diamond Hill, Flora Hill, Junortown, Kennington, Mandurang, Spring Gully, Strathdale and Strathfieldsaye entries