Taradale
Taradale is a rural township on the Calder Highway, 17 km north-west of Kyneton. It is about the same distance south-east of Castlemaine, and is situated in a valley formed by the Back Creek near its junction with the Coliban River.
Taradale was named after Tarradale, Scotland, the birthplace of the geologist Sir Roderick Murchison. The name was given by a colonial surveyor.
In 1852 gold deposits were found at Taradale, and payable deposits found at Back Creek and elsewhere in Taradale in 1856 resulted in a gold rush. They were part of the Coliban diggings running southwards to Lauriston. Further discoveries occurred, including reefs at Barfold, north-east of Taradale. Co-incident with the growth of mining Taradale underwent agricultural settlement.
A school was opened in 1855, an Anglican church in 1856 and a mechanics' institute in 1860. In 1862 the railway line from Kyneton to Bendigo was opened, involving the building of a viaduct bridge across the Back Creek valley. When built it was Australia's longest metal girder bridge (198 m). It was supported by columns of massive bluestone blocks, 37 m high, since added to by intermediate steel-girder columns (1933) to support heavier locomotives.
Taradale had a rapidly growing commercial High Street and on 8 August 1864, it was proclaimed a borough. The civic area west of High Street (Calder Highway) included Catholic and Methodist churches, the court house (1866) and the police station. East of High Street were the public reserve and mineral springs. Along High Street were the mechanics' institute, the Oddfellows (public) hall (1865) and the post office (1860). Numerous mining companies were in operation and 13 hotels catered to miners and farmers. Water supply from the Coliban system was provided in 1869. On 7 October 1870, the borough was united with the Metcalfe shire. Mining continued, and was evident in the description of Taradale in the Australian handbook 1903: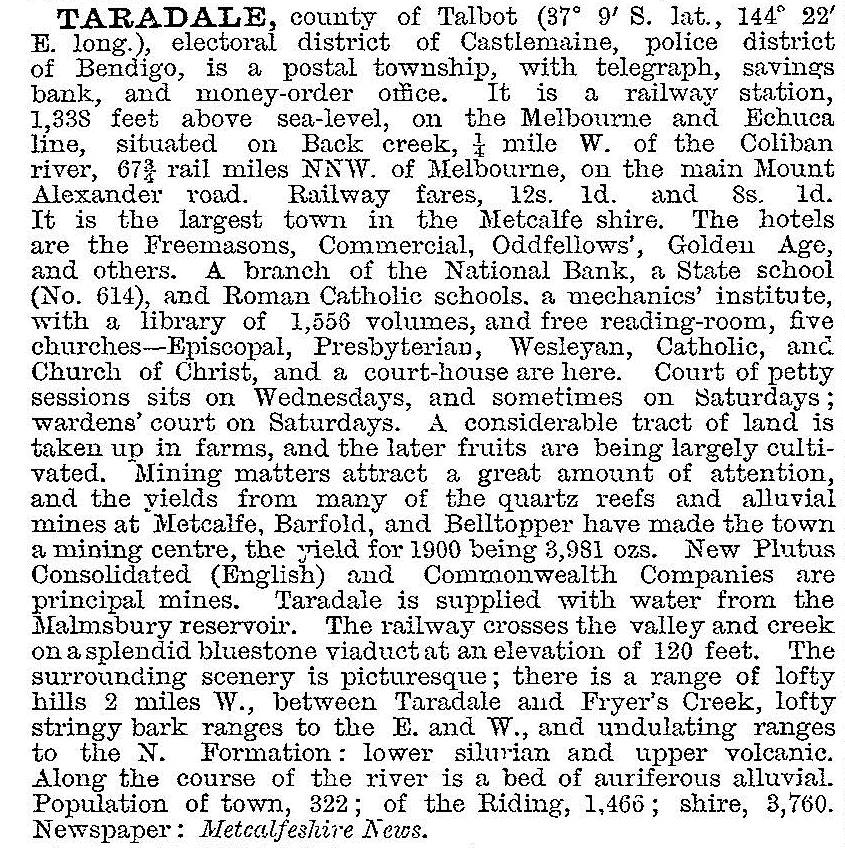 Shortly afterwards mining contracted, but revivals occurred in the 1930s and in 1956-57 at the once-richest Hughes/Achilles Reef. The Golden Gate mullock heap south of the township was the other principal site.
Taradale's location on the Calder Highway and its agricultural land have preserved it from fatal contraction. The town has also avoided the decay and loss of many historic buildings. Over 35 sites were identified in a heritage study for the Metcalfe shire and the railway station and viaduct bridge are on the Victorian Heritage Register.
Taradale has a school (5 pupils, 2014), the imposing English-Gothic Anglican church (1859) and hall (1856), a public hall, a few shops, a golf course, a public park and oval, the mineral springs and a fine view when seen from the crest of the Calder Highway. The town was bypassed by the Calder Freeway (2008). Its census populations have been:
| area | census date | population |
| --- | --- | --- |
| Taradale | 1861 | 897 |
|   | 1871 | 1945 |
|   | 1881 | 1466 |
|   | 1891 | 322 |
|   | 1911 | 514 |
|   | 1933 | 386 |
|   | 1954 | 244 |
|   | 1966 | 198 |
| Taradale and environs | 2011 | 199 |
Further Reading
Keith Cole, The church on the hill: a short history of Holy Trinity, Taradale 1859-1999
Golden days of Taradale, Taradale, 1973
Raymond L. Maltby, Taradale, my home town valley, the author, 1989
Karen Twigg and Wendy Jacobs, Shire of Metcalfe heritage study, 1994