Toolamba
Toolamba is a rural district with a village at the junction of the railway lines to Shepparton and Echuca. It is 15 km south of Shepparton, 12 km south-east of Tatura, and a short distance west of the Goulburn River. It was one of the early areas in the Goulburn Valley which came under irrigation.
Toolamba was named after a pastoral station (1845), and is thought to be derived from an Aboriginal word meaning a lagoon with paperbarks.
In 1874, shortly after pastoral runs were subdivided for farm selections, the town of Toolamba was surveyed on the west bank of the Goulburn River. Within a few years the town and its district had five hotels and several stores. The northwards extension of the railway network in 1880, resulted in the line passing a few kilometres west of the township, with the result that a new centre formed around the railway junction. Some buildings were transferred from the old to the new centre.
The Toolamba district was good for wheat growing as well as fruit trees and grape vines. A fruit cannery was built at Toolamba in the 1880s. The district was relatively densely settled, having two primary schools by 1876 and five by 1890. Sheep grazing had existed since the first pastoral run, and increased to over 40,000 head in 1923 when the shire council provided a dipping facility.
In 1903 the Australian handbook described Toolamba: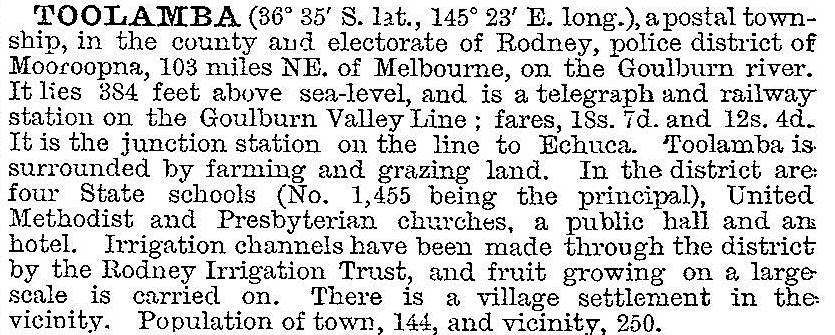 The introduction of farm irrigation by the local waterworks trust (1895) came about eight years after the first irrigation project at Ardmona. Additional irrigation waters came with the completion of the Waranga basin (1909) by the State Rivers and Water Supply Commission.
Toolamba's railway junction had a large grain shed and served as a distribution point for agricultural supplies. The hotel dispensed refreshments to rail passengers while freight was loaded.
After World War II additional closer settlement farms were taken up. Orchards are north and west of the township. To the east of the township there is the Goulburn River and a State forest. The township has a school (126 pupils, 2014), a community centre, a public hall, a church, a general store, a hotel, a recreation reserve and tennis courts. The primary school buildings had been destroyed by fire in 2010 and relocatable classrooms installed on the site.
The rail line between Echuca and Toolamba reopened in 2013 to provide a direct freight service. It had been closed intermittently during the 2000s. The passenger service closed in 1982.
The Toolamba and District Community Plan was released in 2011 encouraging, among other things, the development of a physically active community, redevelopment of the railway reserve and the revival of the Pumpkin Festival.
The Toolamba district's census populations have been:
| census date | population |
| --- | --- |
| 1901 | 97 |
| 1911 | 429 |
| 1933 | 500 |
| 1947 | 440 |
| 1961 | 549 |
| 2006 | 873 |
| 2011 | 752 |
At the 2011 census, dairy farming accounted for 7.2% of total employment and fruit and vegetable processing 3.6%.
Further Reading
W.H. Bossence, Tatura and the Shire of Rodney, Hawthorn Press, 1969
Stewart Marvell, Heart of the valley Toolamba, 1840-1983, Toolamba History Book Committee, 1983