Wannon Shire
Wannon Shire (1872-1994) was in western Victoria, occupying an area known geographically as the Dundas plateau, in a sense the most westerly foothills of the Grampians. The shire's eastern boundary coincided with the Rocklands reservoir, a storage filled by westerly streams from the Grampians. The streams converge in the Glenelg River (the shire's northern boundary) which flows along the base of the plateau before crossing the Western District in a southerly direction.
The Wannon River (also fed by the Grampians) defined the shire's southern boundary, before entering the Glenelg River. The shire's western boundary was about 45 km from the South Australian border. Its main town, Coleraine, was in the south of the shire, positioned on the Glenelg Highway and at the end of a railway (1888-1977), both from Hamilton.
In 1836 the New South Wales Surveyor General, Thomas Mitchell, named the Wannon River during his Australia Felix expedition. It is thought that the name was derived from an Aboriginal word meaning a digging or throwing stick. The Wannon River passes through some scenic landscape, including the Nigretta Falls and the Wannon Falls south-west of Coleraine.
Wannon shire was formed on 15 March and 16 December 1872, by severances from Dundas and Glenelg shires. Coleraine, in the south of the shire, was chosen as its administrative centre. The Wannon shire was described in the 1903 Australian handbook: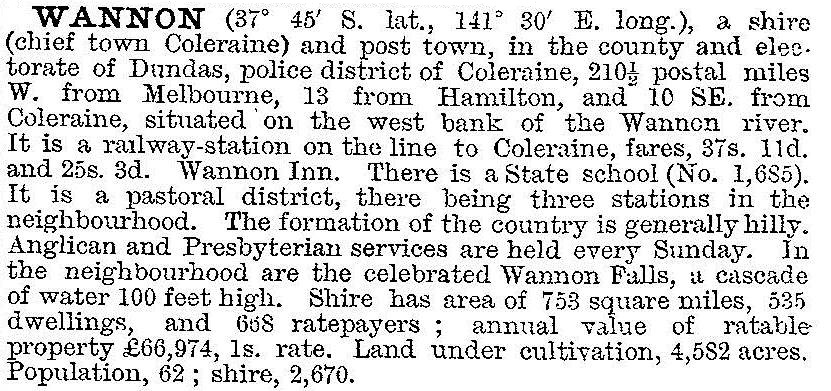 Much of the shire consisted of intact pastoral estates until the early 1900s, when closer settlement, soldier settlement and a private settlement scheme resulted in the estates being subdivided. The private scheme, fostered by Australian Farms Limited, was directed at settling ex-Indian Army personnel. Much of the land was rabbit infested, the blocks were too small and many of the settlers were unsuited to farm work. Whilst the settlements were of moderate or little success, pasture improvement and better planned settlement after World War II finally prevailed. In 1946 the shire was described in the Australian blue book: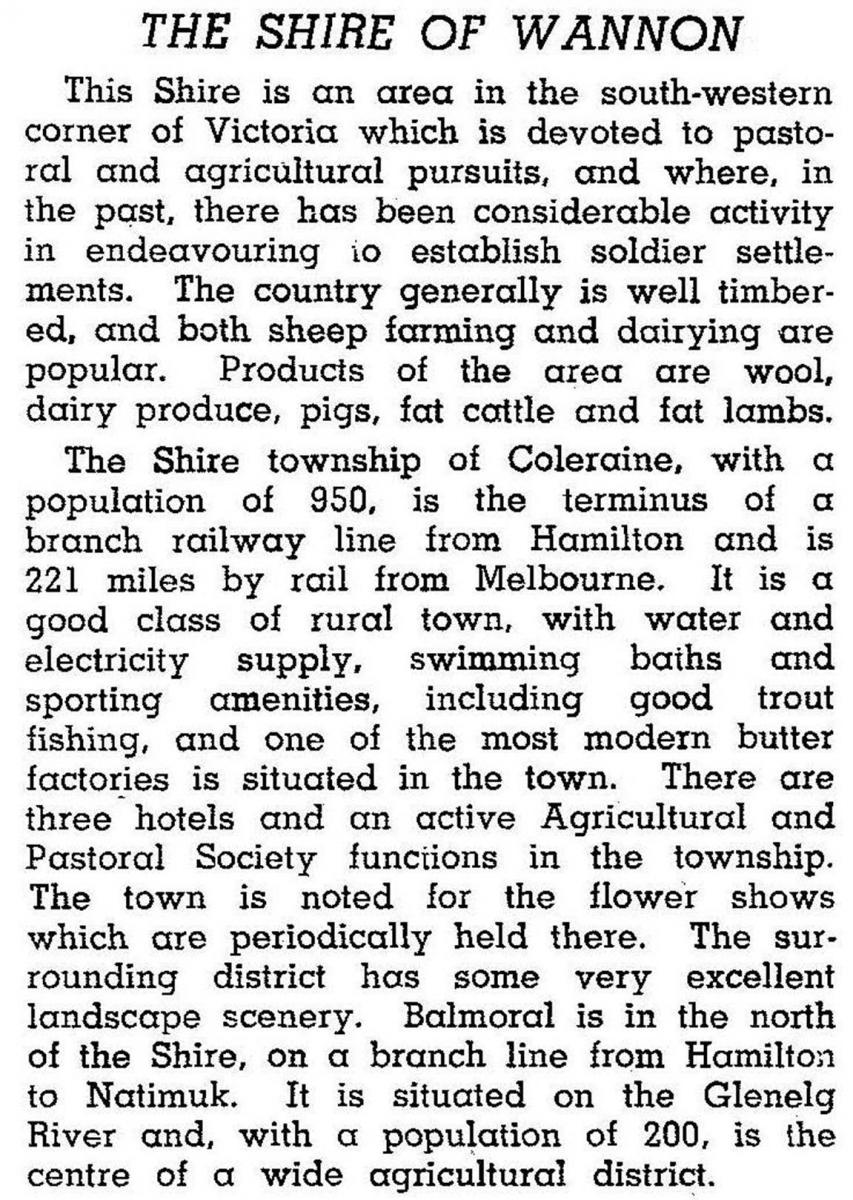 The shire's mainstay proved to be sheep grazing. Dairying and sawmilling were active for a short while, but by the 1990s were much reduced.
In 1994 farming occupied 95% of the shire's area of 1977 sq km. There were 936,000 sheep and lambs and 36,000 meat cattle.
On 23 September 1994, Wannon shire was united with Hamilton city, Dundas and Mount Rouse shires and a small part of Heywood shire to form Southern Grampians shire. The new shire headquartered in Hamilton, and has no office in any of the former shire centres.
Wannon shire's census populations were:
| census date | population |
| --- | --- |
| 1881 | 2670 |
| 1891 | 2478 |
| 1911 | 2766 |
| 1921 | 2841 |
| 1933 | 3858 |
| 1947 | 3425 |
| 1954 | 3949 |
| 1961 | 4154 |
| 1971 | 3646 |
| 1981 | 3040 |
| 1991 | 2685 |
Further Reading
G. McGaffin, The Wannon Shire centenary 1872-1972, Coleraine, 1972
Malcolm Brown et al, Whisperings on the Wannon (river), Hamilton, 2002
Balmoral, Coleraine and Konongwootong entries