Warrandyte
Warrandyte, in hilly terrain on the Yarra River, is a residential and rural suburb 24 km north-east of central Melbourne. The original township is on the south side of the river, and is adjoined by Warrandyte South. Warrandyte North is on the other side of the river, extending northwards to Kangaroo Ground.
Gold
About 2 km south of the township is Andersons Creek, the site of the first gold discovery in Victoria in 1851, for which a government reward was paid. The approximate spot is marked with a cairn in Gold Memorial Road. The Andersons Creek diggings received a slight setback when richer finds were to be had at Bendigo and elsewhere, but mining picked up by 1856. A township formed and a post office was opened in 1857. It was served by a coach service from Melbourne via Doncaster. By then the locality was named Warrandyte, thought to be a combination of Aboriginal words 'warran' (throw) and 'dyte' (the object aimed at), although this has been put in doubt. An Anglican primary school opened in 1856, being absorbed into the State system in the 1860s. Its name was Andersons Creek until 1908.
A bridge across the Yarra River for access to the Caledonia gold diggings (St Andrews), was washed away in a big flood in 1863, and 12 years passed before its replacement, which lasted until 1955. A court house was opened shortly after the bridge. The 1870s and 1880s were filled with hopes for large gold mining ventures, but small scale mining was the usual outcome. A notable surviving artefact is the Pound Bend tunnel where a tunnel was driven through rock to divert the Yarra River to expose a river bed to extract gold in the 1870s. A mechanics' institute and library were opened in 1882.
Farming
South Warrandyte had undulating land with better soil, and settlers established orchards (mainly apples, pears, lemons and strawberries), in common with the farming communities of Doncaster and Ringwood. Warrandyte's traditional road communication with Doncaster was lessened, though, when the railway line from Melbourne to Lilydale, via Ringwood, was opened in 1889. In 1903 the Australian handbook described Warrandyte: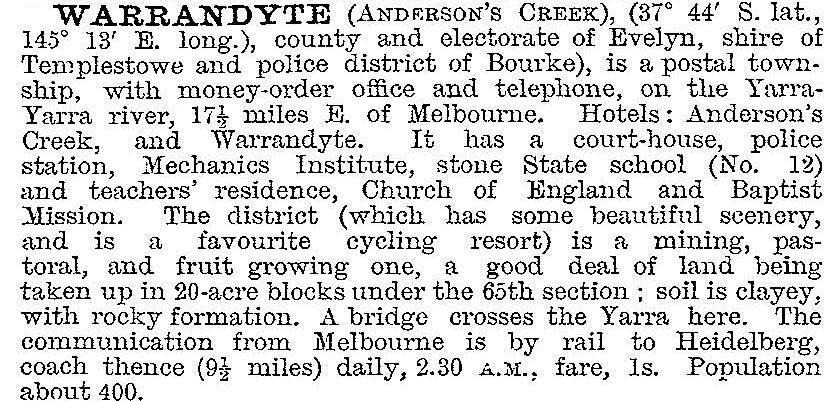 Twentieth Century
In 1905 there was a revival of gold mining, which coincided with increasing numbers of tourists and visitors coming to Warrandyte. The Grand Hotel had been built in 1896. The reserve along the river attracted picnickers and campers, and Melburnians built large houses and weekenders in the hills. The town was flooded in 1934 and five years later lost 168 houses in the Black Friday bushfires.
Warrandyte has attracted artists, two early ones being Clara Southern and Frederick McCubbin. Penleigh Boyd (father of Robin Boyd) lived in Warrandyte in 1914. Danila Vassilieff built a house from local stone in Warrandyte North and lived there from 1940 to 1954. His painting had mainly urban themes but his sculpture was made from the local stone.
Warrandyte's main street follows the edge of the Yarra River, and includes several historic buildings, the shopping centre and numerous arts and crafts outlets. The well-known Potters' Cottage is nearby. Warrandyte has a monthly community market and considerable affection for its mechanics' institute. There is a community centre, visitor information centre and a museum. Adjoining Warrandyte there is an extensive Warrandyte State Park consisting of a riverside reserve of 8 km extending to Wonga Park, the large Pound Bend and smaller ones such as Whipstick Gully in the former gold diggings area. Warrandyte South's more recent residential development includes a drive-in shopping centre and a primary school named Andersons Creek.
Warrandyte's old shopping centre is in Yarra Street where numerous buildings retain original features. The wine hall (1890s) is heritage listed. Other notable buildings include the Grand Hotel (1896), the mechanics' institute (c1927) and a former Gospel Hall (c1946). The Anglican, Catholic and Uniting churches continue. Numerous houses are of architectural note, among them the home and studio of Inge and Grahame King (1951), designed by Robin Boyd.
Bushfires destroyed three houses in Warrandyte in 2014.
Warrandyte's census populations have been:
| Census date | Population |
| --- | --- |
| 1911 | 473 |
| 1933 | 976 |
| 1966 | 1085 |
| 1971 | 2812 |
| 1976 | 3711 |
| 2001 | 4791 |
| 2006 | 5205 |
| 2011 | 5520 |
Further Reading
Louis Cranfield, The golden history of Warrandyte, Warrandyte, 1982
Murray Houghton, Warrandyte: the community with a heart of gold, Blackburn, 2009
North Warrandyte and Warrandyte South entries