Warrnambool Shire
Warrnambool shire (1863-1994) was in western Victoria, L-shaped with the lower part adjoining the coastline. Warrnambool city on the Hopkins Rivers where it enters Lady Bay, was separate from the shire.
The coastal part of the shire contained most of the population, having moist soil of mainly volcanic origin suitable for most types of agriculture and dairying. The latter has become the dominant farm activity. The northern, vertical stroke of the L shaded into general grazing and wool growing.
The Victorian municipal directory (1994) listed 29 places in the shire. Twenty one of them have had 200 or more people at some time and 18 of them were in the coastal part. They included Koroit, Dennington, Woodford, Grassmere, Purnim, Allansford, Garvoc and Nirranda. Koroit adjoins the volcanic Tower Hill in the west and Nirranda was once on the edge of the Heytesbury forest which covered much of the Otways.
Dairying grew rapidly during the 1880s and 1890s, and several butter factories were established. Mergers have reduced their number to factories at Dennington and Allansford, either side of Warrnambool.
In 1946 the shire was described in the Australian blue book: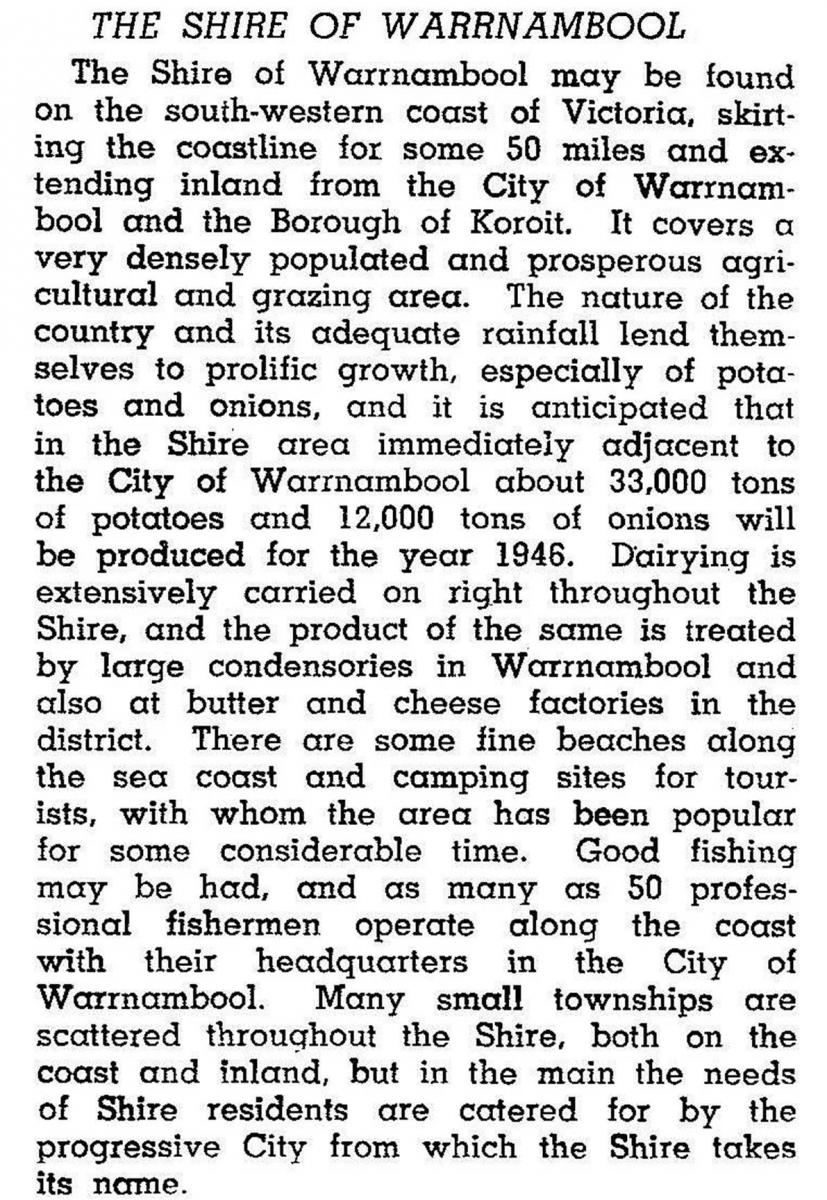 Roads fan out from Warrnambool, and railway lines ran through Warrnambool to Koroit (1890). At Koroit they diverged southwards to Port Fairy and northwards to Hawkesdale. Since 1978 the railway has been closed beyond Warrnambool and Dennington. The Princes Highway meets the coastal Great Ocean Road at Allansford and runs on to Warrnambool.
The northern sheep grazing part of the shire had the small towns of Woolsthorpe and Caramut, the latter being on the Hamilton Highway.
In 1994 Warrnambool shire had 90% of its area of 1605 sq km used for farming. There were 300,000 sheep and lambs, 87,000 dairy cattle and 57,000 meat cattle. Potatoes amounting to 12,765 tonnes were grown, mainly around Koroit.
Warrnambool shire was proclaimed on 31 December 1863, the successor to a road district created in 1854. Koroit borough was added to the shire on 1 October 1985.
On 23 September 1994, most of Warrnambool shire was united with Port Fairy borough, Belfast and Minhamite shires, most of Mortlake shire and parts of Dundas and Mount Rouse shires to form Moyne shire. Allansford, Bushfield and Woodford were added to Warrnambool city.
Warrnambool shire's census populations were:
| census date | population |
| --- | --- |
| 1871 | 9152 |
| 1891 | 9265 |
| 1911 | 8653 |
| 1921 | 8234 |
| 1933 | 8603 |
| 1947 | 8174 |
| 1954 | 8920 |
| 1961 | 7610 |
| 1966 | 7056 |
| 1971 | 6859 |
| 1981 | 6443 |
| 1991 | 8452* |
*including Koroit
Further Reading
C.E. Sayers, Of many things: a history of Warrnambool shire, Olinda, 1972
Allansford, Bushfield, Caramut, Cudgee, Dennington, Garvoc, Grassmere, Illowa, Koroit, Laang, Mailors Flat, Nirranda, Nullawarre, Panmure, Peterborough, Purnim, Wangoom, Warrnambool, Winslow, Woodford and Woolsthorpe entries