Woodford
Woodford is a rural district in western Victoria, 7 km north of Warrnambool. The origin of the name is obscure, but it is probable that Woodford was the first village in the district around Warrnambool.
Woodford's settlement (surveyed 1846) came about by it being the first crossing place on the Merri River for land transport between Port Fairy and Warrnambool. The Woodford bridge was built in 1848, whereas the crossing at Dennington was a punt (1848-57). Before the bridge at Woodford there were an inn, a flour mill (1847) and a short lived punt. A town was surveyed in 1854. The frequency of traffic along the Woodford road led to three hotels being recorded in Bailliere's Victorian gazetteer (1865) along with a school (1854), a Presbyterian church (1856) and a mechanics' institute. The hotels continued until 1887 when a rapid decline set in, leaving only one by 1890: traffic by then used the more convenient road through Dennington.
In 1903 Woodford was described in the Australian handbook: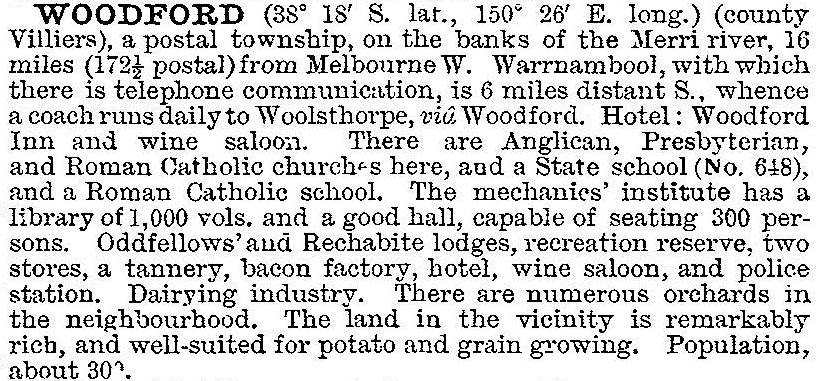 Among the farms at Woodford were George Virtue's garden and orchard, a popular spot for visitors from Warrnambool. By 1900, though, dairying was the growing farm activity.
Dairy farming maintained a fairly stable population until the 1960s. Twenty years later Woodford's proximity to Warrnambool made it attractive for rural/residential living. The Woodford Racing Club has meetings at the Warrnambool racecourse. In 1998 Woodford's primary school had 72 pupils, in 2010 it had 149 and in 2014 it had 168.
Woodford's census populations have been:
| census date | population |
| --- | --- |
| 1861 | 99 |
| 1871 | 242 |
| 1881 | 296 |
| 1911 | 332 |
| 1921 | 228 |
| 1933 | 215 |
| 1954 | 220 |
| 1966 | 181 |
| 2011 | 408 |
Further Reading
C.E. Sayers, Of many things: a history of Warrnambool shire, Olinda, 1972