Woorayl Shire
Woorayl Shire (1888-1994), South Gippsland, extended northwards from Venus Bay and Cape Liptrap, Bass Strait, to the Strzelecki Ranges, beyond Leongatha. It was created on 25 May 1888, by severance from Narracan shire. After a complicated series of losses and additions of territory it ended with an area of 1246 sq km. It is thought that the name was derived from an Aboriginal word describing the lyrebird.
The shire council's first headquarters were at Mirboo North, but in 1890 it transferred to Leongatha, the year before the Great Southern Railway reached that town. Dairy grazing became the shire's staple industry. It was suited to the damp Tarwin River flats toward the coast, and the Tarwin Lower dairy factory opened in 1892. The hilly country was covered with dense forest. Trees were cut down with not much appreciation of their timber value and dairy herds put on the new paddocks. Dairy factories were operating at Dumbalk, Leongatha, Meeniyan, Ruby and Stony Creek by the end of the 1890s.
There was an early attempt at closer settlement with the Leongatha Labour Colony (1893), and after World War I there were several soldier settlement farm estates. Many were unsuccessful. Nevertheless there was a general upwards trend in population between federation and the 1940s. In 1946 the shire was described in the Australian blue book: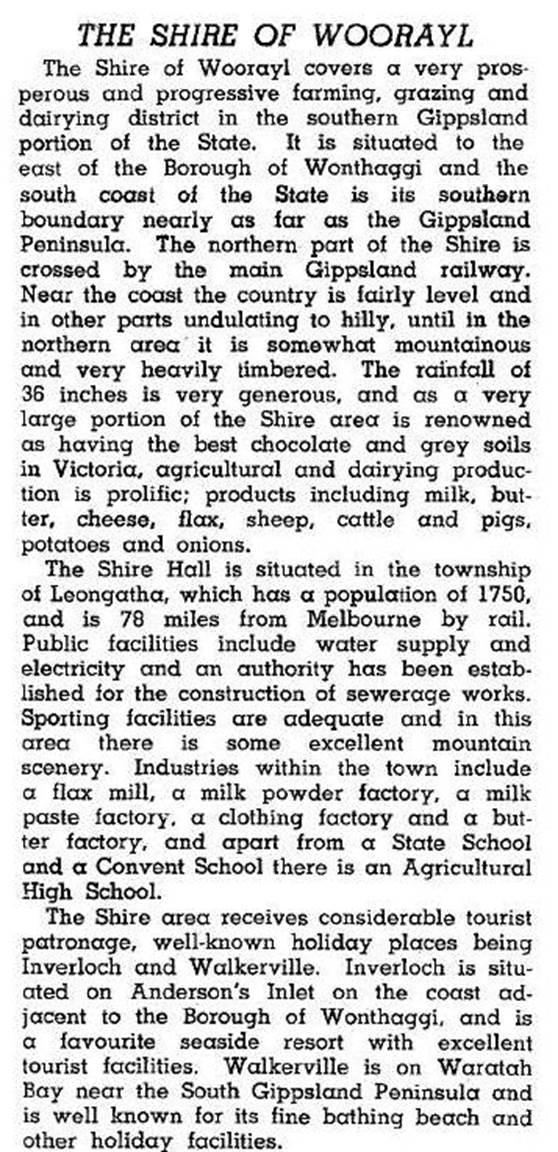 Scientific agriculture made farms more profitable in the 1950s. The rabbit populations were defeated and top dressed pastures produced better milk outputs. A new industry entered the shire: coastal land subdivisions at the old town of Inverloch and the completely new estate of Venus Bay brought retirees and tourists. The shire's most southerly point, however, remained aloof with the Cape Liptrap lighthouse (1913). A short way north-east of the cape there is the holiday spot of Walkerville, on sheltered Waratah Bay.
Leongatha was the hub of the shire, with the railway line and an intersection of highways. The dairy processing industry was centralised there in the 1960s.
In 1994 Woorayl shire had 90,250 meat cattle, 58,500 dairy cattle, 59,600 sheep and 20,800 lambs. Nearly three quarters of the shire was farm land.
Municipal amalgamations in 1994 united Woorayl shire with Mirboo and South Gippsland shires, and most of Korumburra shire, to form a new shire named South Gippsland.
Woorayl shire's census populations were:
| census date | population |
| --- | --- |
| 1891 | 3551 |
| 1911 | 4816 |
| 1921 | 5967 |
| 1947 | 6088 |
| 1954 | 7046 |
| 1961 | 8784 |
| 1981 | 9854 |
| 1991 | 11,003 |
Further Reading
John Murphy, No parallel: the Woorayl shire 1888-1988, North Melbourne, 1988
Dumbalk, Inverloch, Leongatha, Meeniyan, Nerrena, Tarwin Lower, Venus Bay and Walkerville entries