Alberton Shire
The Shire of Alberton (1864-1994) was proclaimed in 1864. In 1894, the western portion was severed to form the Shire of South Gippsland. Located in South Gippsland, the former shire stretched from the ridge of the Strzelecki Ranges in the north to Corner Inlet on the coast in the south. Its area was 1869 square km. From 1896 the administrative centre was Yarram, 225 km south-east of Melbourne. The South Gippsland Highway travelled the length of the shire.
The shire was also at the end of the South Gippsland railway, with a line from Welshpool to Port Albert via Alberton (1892) and an extension from Alberton to Woodside via Yarram (1921-87).
European settlements in the former shire were on the coast at Alberton, Port Albert and Tarraville, when the district was the port for Gippsland. As their influence waned, Yarram became the provincial centre, servicing an extensive dairying and grazing area. Many small farming communities were established in the steep hill country but by the 1930s most of them were abandoned and later reforested. On the shire's northern boundary there was the heritage listed Tarra Bulga National Park.
In 1946 the Alberton Shire was described in the Australian blue book: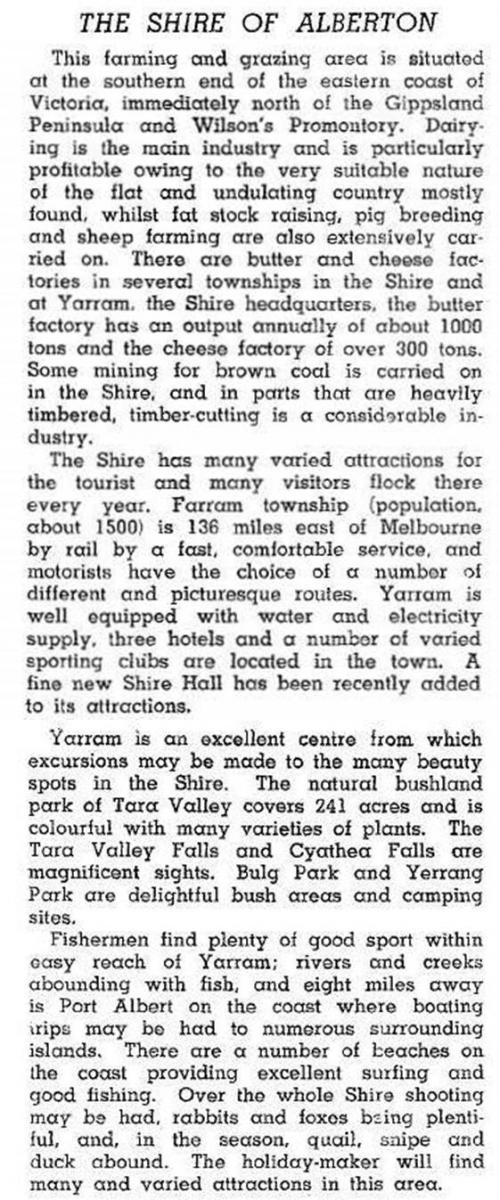 In 1994, Alberton Shire was amalgamated with other shires to form Wellington Shire. Populations for the Alberton Shire were:
| census date | population |
| --- | --- |
| 1871 | 2757 |
| 1911 | 2440 |
| 1933 | 5989 |
| 1957 | 5560 |
| 1976 | 5673 |
| 1991 | 6165 |
In 1994 the shire had 29,000 meat cattle, 81,000 dairy cattle, 159,000 sheep and 50,000 lambs. Farming occupied 42% of the shire's area.
Further Reading
John Adams, From these beginnings: history of the Alberton Shire (Victoria), Yarram, 1990
Alberton, Binginwarri, Carrajung, Devon North, Gormandale, Port Albert, Tarraville, Won Wron, Woodside and Yarram entries