Castlemaine
The Castlemaine locality was originally named Forest Creek where a rich alluvial goldfield was discovered in 1851. In the following year a town was surveyed and named Castlemaine after the estate of Viscount Castlemaine in Ireland. The suggested name is variously recorded as coming from Lieutenant-Governor C. J. La Trobe, or from goldfields Commissioner Wright. Both had visited or stayed at the estate.
Castlemaine township includes several suburban localities: Little Bendigo, Milkmaids Flat, Norwood Hill, Wesley Hill and Winters Flat. It is situated 117 km north-west of Melbourne and 35 km south of Bendigo at the junction of the Barkers and Forest Creeks.
Castlemaine was on the route followed by Surveyor-General, Major Sir Thomas Mitchell in 1836. Pastoral settlement followed 'The Major's Line', the wheel ruts left by Mitchell's party during the well-watered season of 1836 in Australia Felix. Three shepherds and a bullock driver discovered gold in Specimen Gully, about 5 km north-east of Castlemaine, in September 1851. Within a month the alluvial bed of Forest Creek was being worked. By the end of 1851 there were 8000 persons working the gold fields and several alluvial creeks around Castlemaine, and in February 1852, the newly arrived goldfields Commissioner chose an area at the junction of the two creeks for his administrative headquarters, now called 'The Camp Reserve'. By March 1852 there were an estimated 25,000 persons on the Forest Creek diggings.
The first land sale was held the year after the township survey. Castlemaine was proclaimed a municipal district on 24 April 1855 and a borough on 2 October 1863. Its further municipal progress was proclamation as a town on 30 January 1950 and as a city on 4 December 1965. On 19 January 1995, it was united with Newstead and parts of Maldon and Metcalfe shires to form Mount Alexander Shire. The record goldfields populations did not persist, and census returns for the municipality were:
| Census date | Population |
| --- | --- |
| 1871 | 6935 |
| 1891 | 4770 |
| 1961 | 7216 |
| 1991 | 6912 |
| 2011 | 6751 |
Castlemaine's utility and service facilities were substantially built by 1875 and the description given in the 1903 edition of the Australian handbook, 50 years after Castlemaine's beginnings, enumerates the features existing in the 1870s and at the turn of that century: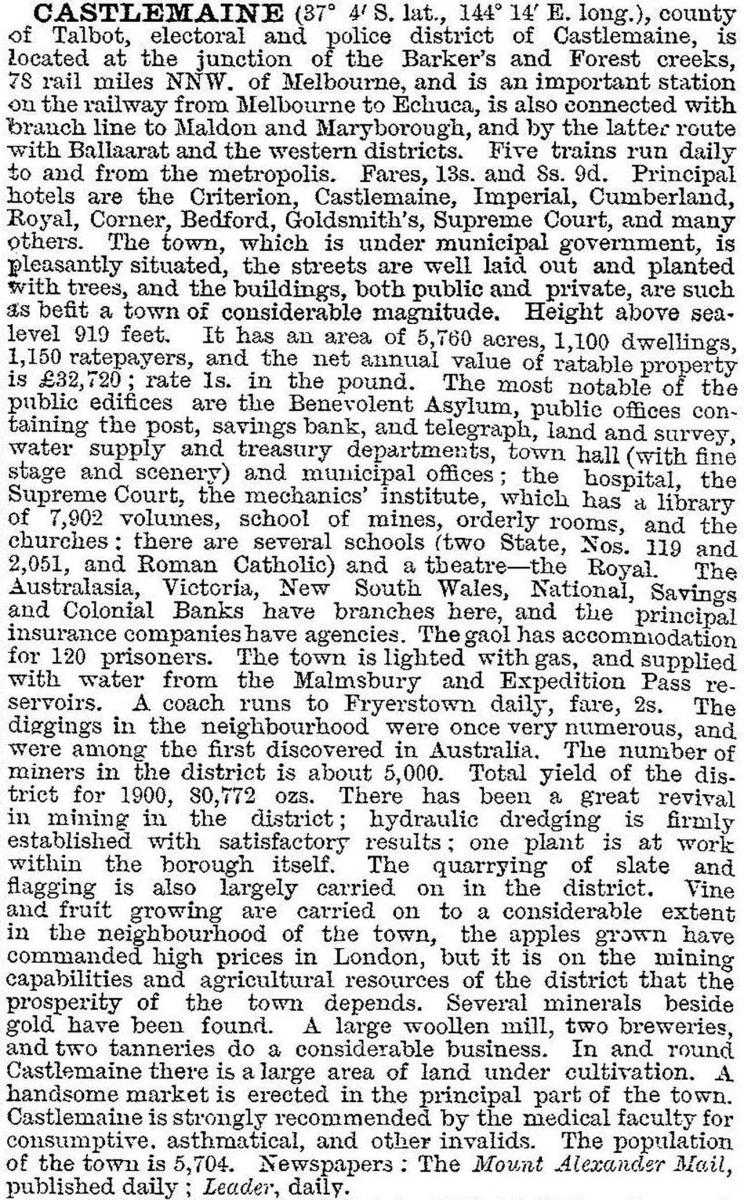 The Borough of Castlemaine was described in the Victorian municipal directory of 1930: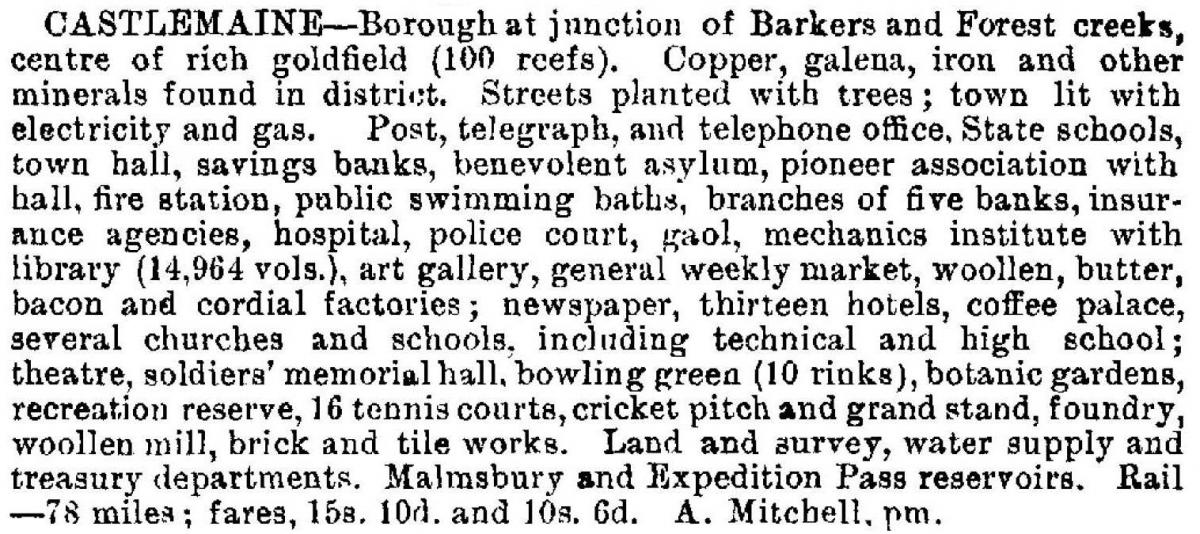 The Borough was described after World War II in the 1946 Australian blue book: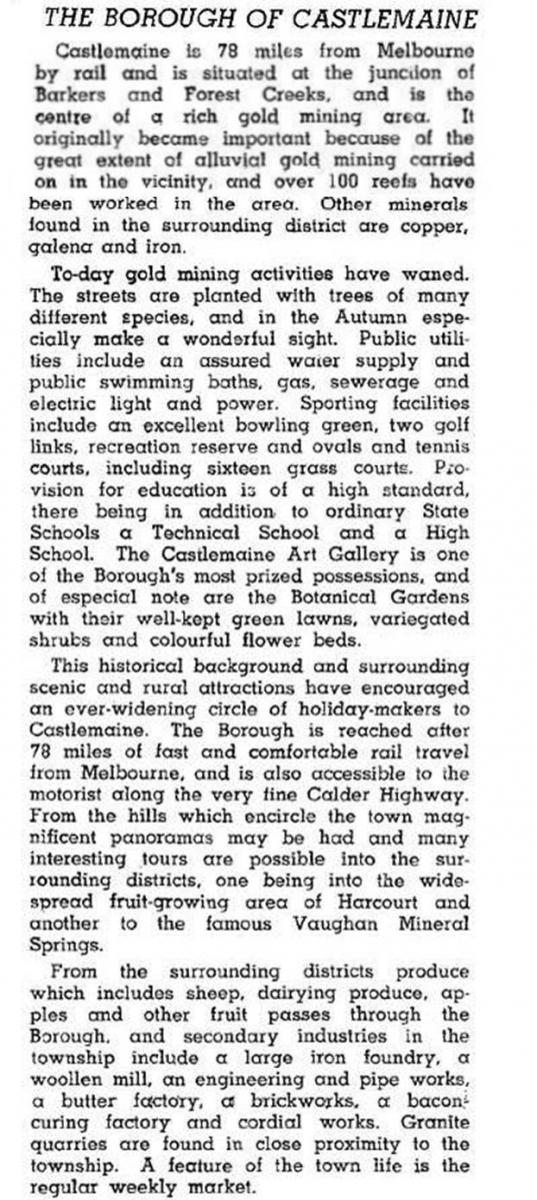 In the 1970s Castlemaine undertook a significant development of its cultural and tourism assets. The first biennial Castlemaine State Festival was held in 1976, during early November, which coincides with the Spring-flowering time of several notable private gardens. On alternate years there is the open gardens festival.
The 1995 Victorian Heritage Register contained 27 Castlemaine buildings, one of the foremost entries being the market (1861-62), with its finely proportioned front consisting of a portico, archway entrance and flanking cupolas. 
Further Reading
Raymond Bradfield, Castlemaine and district tours, 1975
Geoff Hocking, Castlemaine – from camp to city, Five Mile Press, 1994