Ceres
Ceres is a rural village on a summit of the Barrabool hills, 7 km west of central Geelong.
The fertile Barrabool hills were settled briefly in the late 1830s by pastoralists, but in 1840 the sale of farm blocks began. An Anglican school opened in 1845 just west of Merrawarp Road. As the district had no designated town, a private initiative put town lots on the market in 1850. The town was named Ceres, the name of the Roman goddess of agriculture, and is on Barrabool Road 2 km east of the Anglican school.
A hotel opened at Ceres in 1850 and by 1856 there were another two. A Wesleyan chapel was built in 1855 and by 1861 the total abstinence movement had built a temperance hall. The Anglicans kept to their spot to the west and built a handsome building in 1855. Both churches, the hall, and a surviving timber ruin that was the school are heritage listed.
Ceres was described in 1903 in the Australian handbook: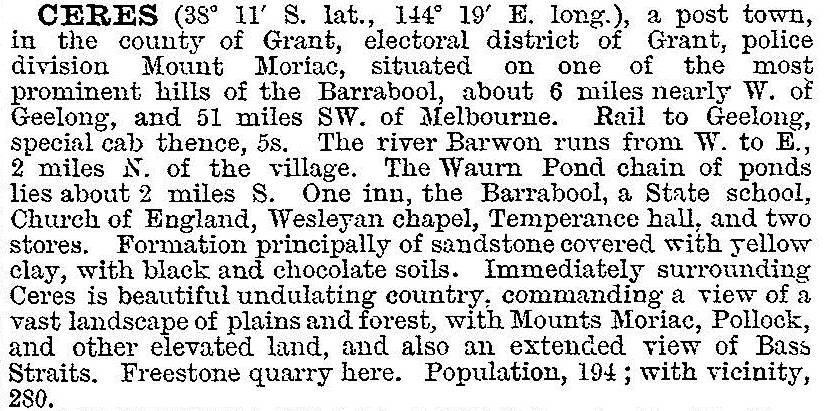 Ceres' rural hills can be viewed from the Geelong Ring Road, suburbia to the east, Ceres to the west. The village retains its heritage buildings, recreation reserve and school (103 pupils, 2014). Several houses are built with Barrabool stone, as are a number of farm homesteads. The locality slopes northwards to its boundary on the Barwon River.
Ceres' census populations have been:
| census date | population |
| --- | --- |
| 1911 | 212 |
| 1921 | 194 |
| 1933 | 244 |
| 1947 | 215 |
| 1961 | 186 |
| 2011 | 236 |