Deakin Shire
Deakin Shire (1893-1994) was created on 20 April 1893, by severance from Echuca Shire. Its administrative centre was Tongala, 160 km north of Melbourne, and the shire was bordered by the Campaspe and the Goulburn Rivers where they converge to the east of Echuca.
The shire was named after Alfred Deakin, Victorian Parliamentarian and chair of the Royal Commission on Irrigation (1884). Deakin introduced legislation for State-aided irrigation trusts, which ultimately led to the early irrigation works in the Deakin Shire. The shire was based on the area covered by the Echuca and Waranga Water Trust.
Much of the Deakin Shire was made available for farm selections after 1900 as irrigation water became available from the Waranga-Goulburn system. The shire was crossed by a railway from Kyabram to Echuca, and a short railway (1917) connected Girgarre to Rushworth. In addition to the places mentioned the shire also included Echuca Village settlement, Koyuga and Wyuna. In 1946 the shire was described in the Australian blue book: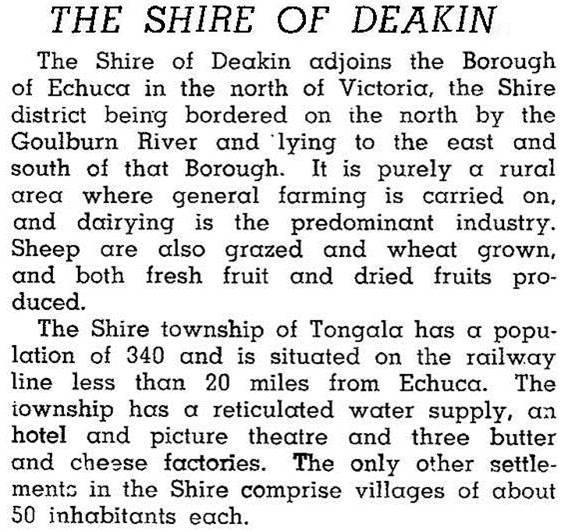 In 1994 three quarters of the shire's 961 sq km were farm land. There were 81,000 dairy cattle, 19,000 meat cattle and 31,000 sheep and lambs.
On 18 November 1994, Deakin Shire was united with Echuca city, Kyabram town, most of Rochester and Waranga shires and part of Rodney Shire to form Campaspe Shire.
Deakin Shire's census populations were:
| census date | population |
| --- | --- |
| 1911 | 2686 |
| 1921 | 3924 |
| 1933 | 4700 |
| 1947 | 3924 |
| 1954 | 4635 |
| 1961 | 5296 |
| 1971 | 5666 |
| 1981 | 6090 |
| 1991 | 5623 |
Further Reading
Tongala Family History Group, Wagon wheels to water wheels, 1993
Tongala Family History Group, The way we were: early days in Deakin Shire, 1995
Echuca Village, Girgarre, Koyuga, Kyvalley, Tongala and Wyuna entries