Eaglehawk
Eaglehawk is a residential suburb in the north-west of urban Bendigo. Its town centre is 5 km from the centre of Bendigo.
Gold was discovered at Bendigo in October 1851 and the gold-bearing land extended several kilometres north and north-west of Bendigo, beyond Eaglehawk. California Gully and Sailors Gully recorded gold finds in the first half of 1852, along with Eaglehawk.
In 1854 town lots were surveyed and sold along High Street, Eaglehawk, where it divides into Sailors Gully and Pegleg Gully Roads (ie Pyramid Hill Road and Loddon Valley Highway).
A National school was opened in 1854 on the site occupied by the present primary school. Two Methodist churches were opened the following year, and further north at Sailors Gully a second school was opened (now Eaglehawk North school). The 1860s were a period of rapid growth, but with mostly short-lived or hastily run up buildings. The next two decades saw more substantial developments.
Eaglehawk borough was created on 29 July 1862. By the end of the decade there were also Anglican and Presbyterian churches and a mechanics' institute. Gas was laid on in 1866, the railway from Bendigo to Bridgewater was opened in 1876, with a station at Eaglehawk.
In 1875 Eaglehawk was described in the Australian handbook: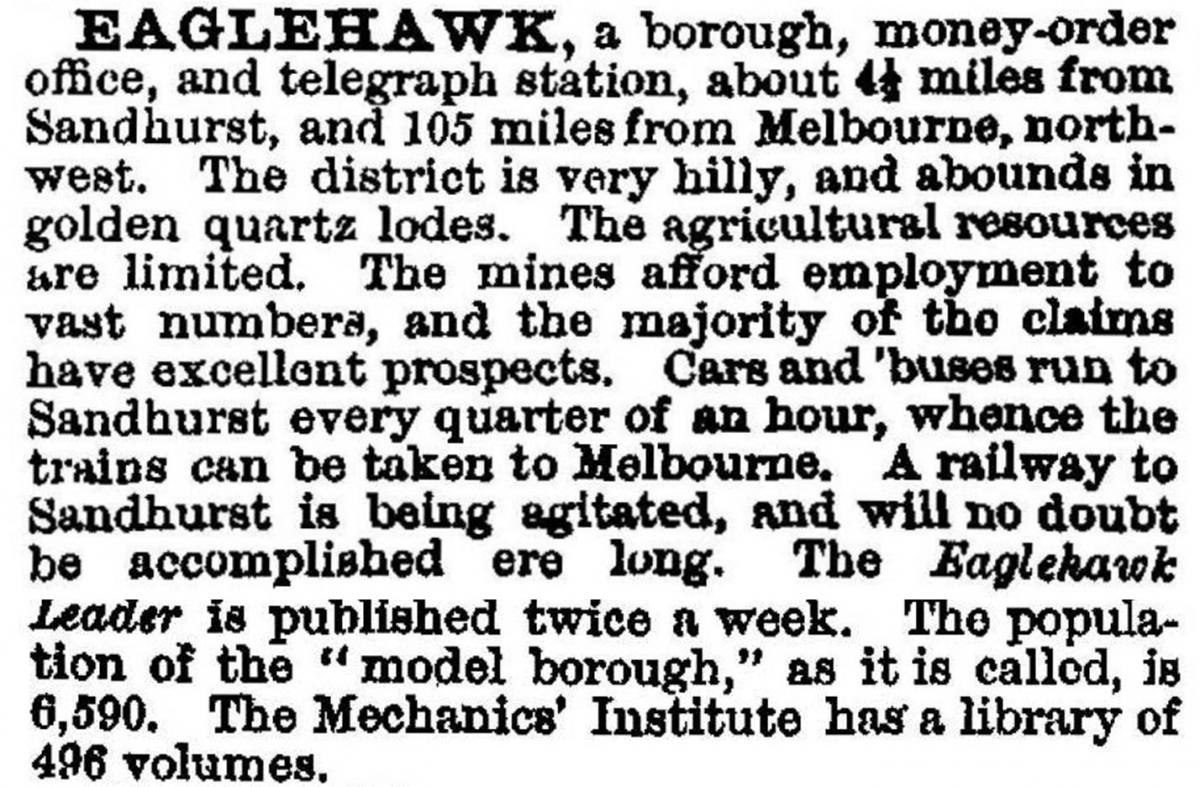 In 1882 Eaglehawk became a railway junction when the line to Raywood was opened. The 1870s-80s also saw the creation of a botanical garden (Canterbury Park) and the adjoining Lake Neangar, the extravagantly designed primary school (1884) and the first tramway. A new town hall was built in 1901 and the trams were electrified in 1903. Eaglehawk was described in the Australian handbook, 1903: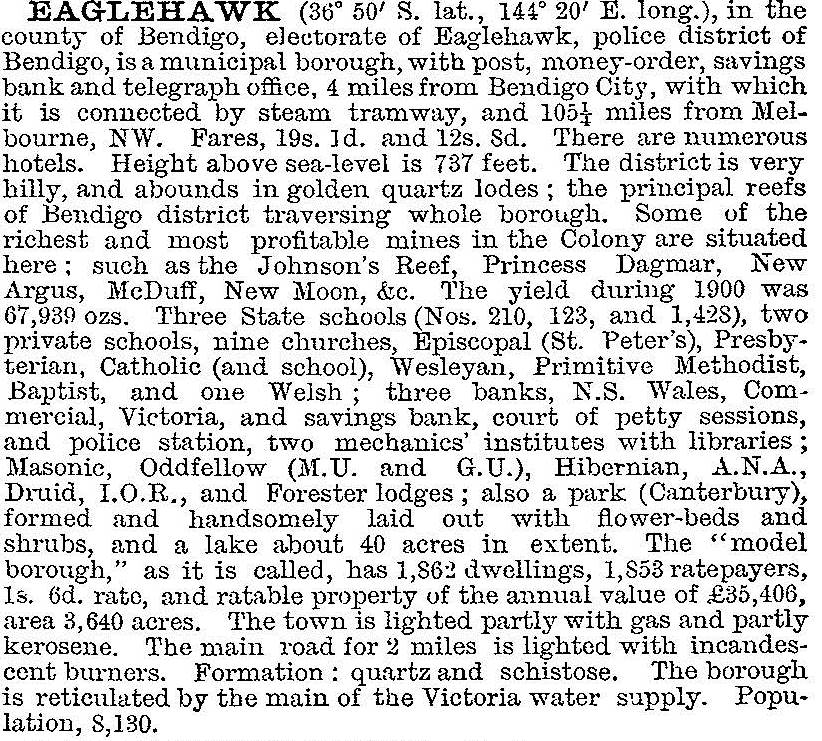 At about that time mining employment and the borough's population began to decline, more than halving between the 1901 and 1933 censuses.
Eaglehawk miners had made up a football team which won for Eaglehawk five consecutive premierships (1894-98) in the Bendigo Football League. After the closure of most mines by 1920 premierships were harder to win, but the club totalled 25 from 1882 to 1982. Eaglehawk's population and civic infrastructure underwent little advance during the prewar years, although there were some local industries. Some of them were mentioned in the Australian blue book's description in 1946: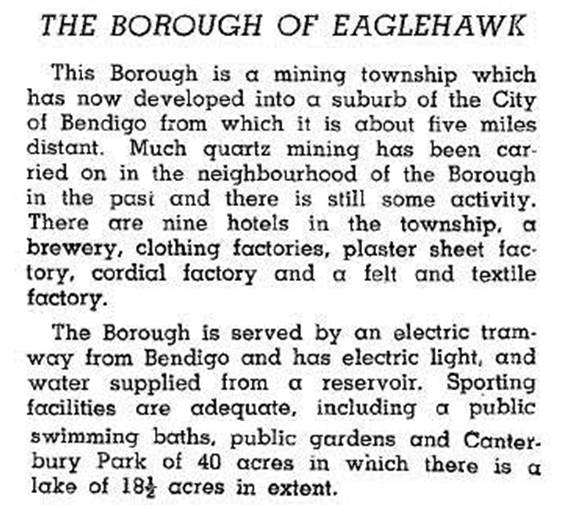 Minor population growth occurred in the 1960s, a high school was opened in 1964 and the tramline closed in 1973. The civic and religious infrastructure became noticed as a well preserved heritage site, particularly the area extending from the primary school to the Uniting (Methodist) church. The town hall has a striking setting. Away to the west is a small group of stone cottages (1875) in Clarke Street, forming a hamlet around a mining gully. Known as Harvey Town, two of the cottages are on the Register of the National Estate.
Eaglehawk has a secondary college (559 pupils, 2014), a Catholic (1904) and two State primary schools (Eaglehawk 113 pupils, 2014, and Eaglehawk North, 332 pupils, 2014), two golf courses, Canterbury Park with swimming, tennis, bowls and croquet facilities, an oval, the Albert Roy Reserve, several churches, three hotels, public halls and a recreation/leisure centre. A museum is in the former court house which is near the mechanics' institute and the former town hall. An annual arts and dahlia festival is held in March-April.
A disused mine site was identifed under the Eaglehawk Structure Plan as a potential industrial estate.
Eaglehawk borough was united with Bendigo and Marong Rural cities and Huntly and Strathfieldsaye shires on 7 April 1994 to form Greater Bendigo city.
Census populations have been:
census date
population
 
Eaglehawk borough
Eaglehawk suburb
1871
6590
 
1881
7362
 
1891
7315
 
1901
8367
 
1911
7588
 
1921
4719
 
1933
3791
 
1947
4040
 
1954
4696
 
1966
5230
 
1976
6381
 
1981
7250
 
1986
8184
 
1991
8381
 
2001
 
4014
2006
 
4346
2011
 
4810
Further Reading
Ray Wallace, Eaglehawk: sketch book of a golden past, Borough of Eaglehawk, 1983
H.J.G. Biggs, Eaglehawk borough council, 100 years of local government 1862-1962, the council, 1962
Eaglehawk and Bendigo heritage study, Fairfield, Vic, 1993
Noelene Wild, Eaglehawk UFS: 90 years of dispensing, Eaglehawk, 2006
Noelene Wild, Borough burning: the first 125 years of the Eaglehawk fire brigade, Eaglehawk, 1998
Darren Rodda, Eaglehawk Cricket Club: 150 not out (1856-2006), Eaglehawk, 2006
Aylene Kirkwood and Bev Hanson, Eaglehawk - welcome back, Eaglehawk, 2006
Eaglehawk Presbyterian church, Eaglehawk, 2009
Aylene Kirkwood, Eaglehawk dahlia and arts festival: celebrating 40 fabulous years, Eaglehawk, 2011
Aylene Kirkwood, A tour of our town, Eaglehawk, Eaglehawk, 2008
California Gully and Sailors Gully entries