East Loddon Shire
East Loddon Shire (1871-1995), south-west of Echuca, had an area of 120 sq km. The Loddon River formed its western boundary. The river was named by the New South Wales Surveyor-General, Thomas Mitchell, on his Australia Felix expedition in 1836, probably after the Loddon River, Berkshire, England.
East Loddon Shire was proclaimed on 28 July 1871. Its administrative centre was at Serpentine, on the Loddon Valley Highway in the western part of the shire. The shire's railway access was towards the east, on the line from Bendigo to Kerang. The small towns of Dingee and Mitiamo are on the railway. In 1951 most of the shire's small schools were consolidated at the East Loddon school in Dingee.
In 1946 the shire was described in the Australian blue book: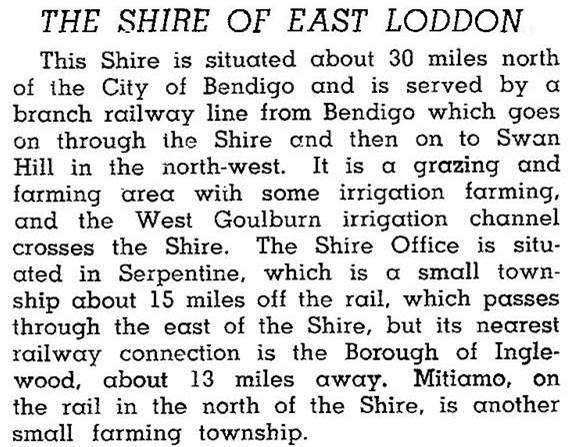 Farming occupied 91% of the shire's area in 1994, carrying 17,500 meat cattle, 14,500 dairy cattle and 184,000 sheep and lambs. Wheat amounting to 19,900 tonnes was harvested. The Waranga Western Channel and other water supply channels provide stock supplies and some water for irrigation. They replaced private irrigation works on the Loddon River and Serpentine Creek begun in the 1880s.
The undulating farmlands of East Loddon can be viewed from Mount Terrick Terrick at the north-east of the former shire.
On 19 January 1995, East Loddon Shire was united with Korong Shire, most of Gordon Shire and parts of Greater Bendigo City and Bet Bet, Maldon and Tullaroop Shires to form Loddon Shire.
East Loddon Shire's census populations were:
| census date | population |
| --- | --- |
| 1881 | 1701 |
| 1911 | 1668 |
| 1921 | 1771 |
| 1933 | 1987 |
| 1947 | 1379 |
| 1954 | 1446 |
| 1961 | 1703 |
| 1966 | 1722 |
| 1971 | 1598 |
| 1981 | 1510 |
| 1991 | 1272 |
Further Reading
Michael Sharland, These verdant plains: a history of the Shire of East Loddon, 1971
Calivil, Dingee, Mitiamo, Serpentine and Tandarra entries