Epping
Epping is a suburb 18 km north of central Melbourne, on the Darebin Creek. Until 2012 it was the terminus of a metropolitan railway line.
An unnamed village reserve was surveyed in 1839 where Epping later developed. The village was named Epping in 1853, probably after Epping Forest, Essex, England, by when there were a hotel (1844) and a Catholic school. The Epping Road Board was established a year later. In 1870 the area around Epping became Darebin shire, which was renamed Epping shire in 1893 until united with Whittlesea shire in 1915. By the time the shire was created Epping township contained several churches, hotels and a state school as well as church school. Farmers of Irish origin predominated, but English, Scots and Germans settled there. There were several dairy farms. The Melbourne to Whittlesea railway (1889-1960) had a station at Epping, and the main industries to benefit were the transport of milk and quarry products. In 1903 the Australian handbook described Epping: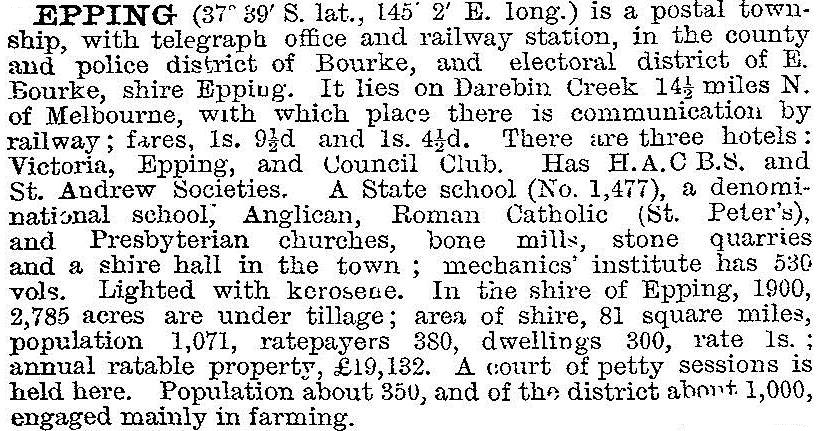 The original Epping township is on higher ground west of the Darebin Creek (the Catholic church being the only one not to have moved from lower flood-risk land). Several older buildings are constructed in bluestone, plentiful in the surrounding volcanic plains. The Whittlesea shire/city offices were at Epping until about 1993. On Epping Road there is a strip shopping centre, and the drive-in Epping Plaza shopping centre (1996) to the west. The Epping hospital (1998) adjoins it. Along the Darebin Creek there is a linear park, and there are several neighbourhood reserves.
The Epping State primary school (1874) was the sole place of learning until 1934 when the Catholic primary school opened. A Catholic secondary school opened in 1964 and then followed: Epping secondary college (1976); Lalor North secondary college (1978); Mill Park secondary college (1996); Greenbrook primary school (2007); Meadow Glen primary school (2007); and Northern Metro Institute of TAFE (1992)
In 1992 the Epping Returned Soldiers' League moved to Harvest Home Road, Epping North, in the midst of open country. Vic Urban bought up vast acreages in Epping North and in 2006 launched Aurora estate, projected to house 25,000 people by 2025. Between the Aurora estate and Epping Road there is A.V. Jennings' Lyndarum estate with a shopping centre and Epping Views State primary school (2008).
There has been a comprehensive study of native flora and fauna on the Aurora site. Mature red gums will be conserved and plans made for conservation of grasslands and rare fauna such as the growling frog. Some former farmlands are overburdened with exotic plants and weeds. Epping North's farm heritage is best seen along Harvest Home Road.
Two town centres and State and Catholic schools reserved sites reserved in 2012 in Epping North and in 2014 that area was identifed as a growth suburb and site for a new primary school.
A somewhat controversial decision was made to relocate Melbourne's Wholesale Fruit, Vegetable and Flower market to a new site in Cooper Street, Epping, in 2014-15.
Epping's and Epping shire's census population have been:
| Area | Census date | Population |
| --- | --- | --- |
| Epping | 1871 | 290 |
|   | 1881 | 418 |
|   | 1891 | 287 |
|   | 1901 | 313 |
|   | 1911 | 368 |
|   | 1933 | 487 |
|   | 1954 | 237 |
|   | 2001 | 18,559 |
|   | 2006 | 19,222 |
|   | 2011 | 26,346 |
| Epping shire | 1891 | 1269 |
|   | 1901 | 1182 |
|   | 1911 | 1298 |
At the 2011 census religious affiliations included:
Religion
% of total population
 
Epping
Victoria
Catholic
32.3
26.7
Eastern Orthodox
14.4
4.3
At the 2011 census ancestry included:
| ancestry | % Epping | % Australia |
| --- | --- | --- |
| Macedonian | 7.2 | 0.3 |
| Italian | 11.4 | 3.3 |
| Indian | 5.5 | 1.4 |
Further Reading
J.W. Payne, The Plenty: a centenary history of the Whittlesea Shire, Lowden, 1975