Landsborough
Landsborough is a rural village in central-west Victoria about 32 km east of Stawell. It lies in country encircled by gold towns, Ararat, Avoca, St Arnaud and Stawell, and was itself a gold field.
In early 1856 gold was found and a rush was made on the Landsborough area. It was named the Malakoff Lead, probably after the battle of Malakoff in Crimea in 1855. There were further intermittent discoveries, and a particularly rich one in 1862. This was enough to stimulate formation of a township named after William Landsborough who led an expedition in search of the explorers Burke and Wills in 1861.
The population of Landsborough was put at 8000-9000 people in 1862 and, whilst those figures did not last long, further discoveries during the 1860s prevented Landsborough from being deserted. A school was opened in 1864 and Bailliere's Victorian gazetteer (1865) recorded Landsborough as having several hotels, a bank and an insurance office, a brewery and a quartz-crushing mill. There was also mining at Navarre, Barkly and Frenchmans to the north and east.
A local progress committee successfully agitated for the release of land for farm selections, and farming readily replaced mining as ore ran out. By the 1880s Landsborough was described as mixed agriculture and mining, and in 1903 there was no reference to mining in the Australian handbook's description: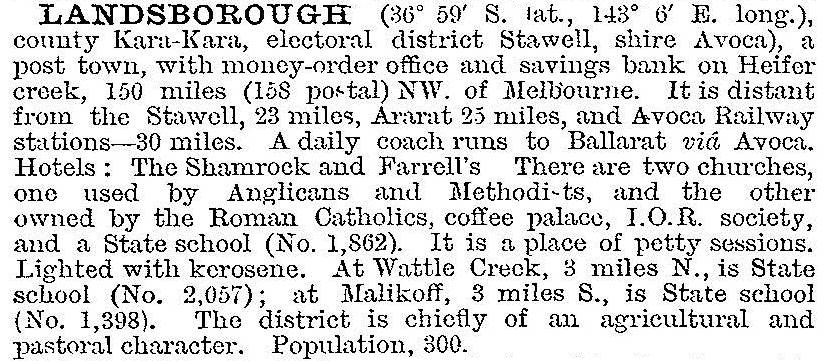 Landsborough continued to be a prosperous town, adding a substantial Catholic presbytery (1917), Hodgett's store (1924) and an imposing public hall with three arches at its entrance (1922). All these structures remain, in addition to a Catholic church (1887), an Anglican church (1904), the Commercial Hotel and a primary school (18 pupils, 2014). There is also a recreation reserve, grain silos and a reservoir which supplies reticulated water.
The Landsborough Valley is home to a number of vineyards in the Pyrenees wine region of Western Victoria including the Landsborough Valley Estate (1963).
Landsborough's census populations have been:
| area | census date | population |
| --- | --- | --- |
| Landsborough | 1871 | 354 |
|   | 1911 | 529 |
|   | 1947 | 253 |
|   | 1966 | 163 |
| Landsborough and environs | 2006 | 259 |
|   | 2011 | 256 |
Further Reading
Margery and Betty Beavis, Avoca: the early years, the author?, 1986
W. Jacobs and K. Twigg, The Pyrenees Shire: Avoca Shire heritage study 1864-1994, 1995