Leigh Shire
Leigh shire (1861-1994) was an area principally of undulating plains apart from timbered ranges at its north-western corner around Rokewood. Its western boundary was the Woady Yaloak Creek, its eastern boundary in the vicinity of Shelford and Inverleigh and its southern boundary was an irregular line in the vicinity of the Hamilton Highway.
The shire was named after the Leigh River, but how the river's name came about is apparently unrecorded.
Several large pastoral runs occupied the shire, one of them being Golf Hill, taken up by George Russell for the Clyde Company in 1839. Russell instigated the area's first village where a road crossed the Leigh River. It became Shelford, which was the main centre until Rokewood's gold mining overshadowed it.
Shelford Road District (1861) was succeeded by the shire on 22 March 1864. Rokewood secured the shire offices and the hall was built midway between there and Shelford, at Warrambine Creek.
Rail services comprised a line southwards through Rokewood (1911-53) and a line parallel to the Hamilton Highway (continuing).
Population was concentrated in the gold mining villages in the north-west of the shire but their decline contributed to a halving of the shire's population during 1900-47. Just as soldier settlers began taken up properties around Rokewood and Shelford after World War II, the shire was described in 1946 in the Australian blue book: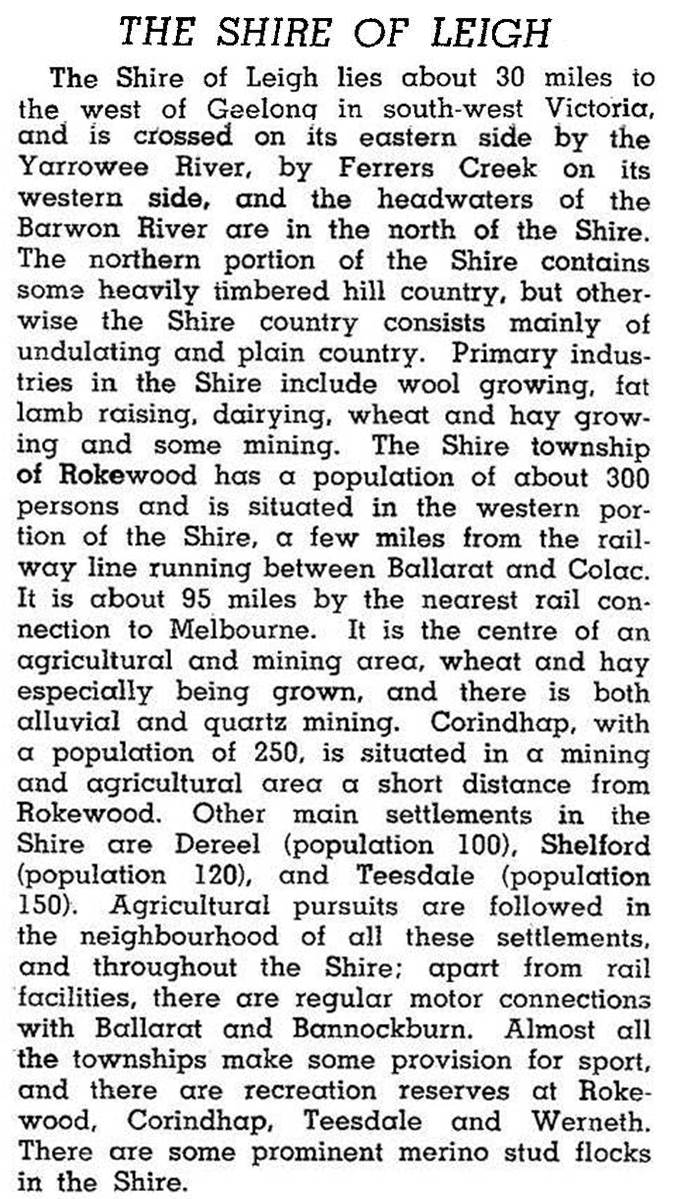 Soldier settlement farms fell in numbers after failing wool prices during the 1960s. In 1994 farming occupied 97% of the shire's area of 982 sq km. The predominantly grazing properties carried 428,000 sheep and lambs and 13,800 meat cattle. By the early 1990s the shire's main urban or rural/residential population was in Teesdale.
On 6 May 1994, Leigh shire was united with Bannockburn shire and parts of Buninyong and Grenville shires to form Golden Plains shire.
Leigh shire's census populations were:
| census date | population |
| --- | --- |
| 1871 | 2765 |
| 1881 | 1905 |
| 1891 | 1697 |
| 1901 | 2203 |
| 1911 | 1747 |
| 1921 | 1523 |
| 1933 | 1426 |
| 1947 | 970 |
| 1954 | 1096 |
| 1961 | 1460 |
| 1966 | 1402 |
| 1971 | 1117 |
| 1976 | 1175 |
| 1981 | 1285 |
| 1986 | 1791 |
| 1991 | 2226 |
Further Reading
C.G. Hallum, Shire of Leigh centenary 1864-1964, the shire, 1964
Gladys Seaton, Gold reef and silver tussock: a history of the Shire of Leigh, Shire of Leigh, 1988
Corindhap, Dereel, Rokewood, Rokewood Junction, Shelford and Teesdale entries