Lockwood and Lockwood South
Lockwood and Lockwood South are rural/residential areas 13-14 km south-west of Bendigo. They comprise a linear locality generally following the Bullock Creek and the Ravenswood-Marong Road (Calder Alternative Highway).
Lockwood was settled as an agricultural district although there were gold fields within 10 km at Marong and Kangaroo Flat. A Wesleyan Independent school was opened at Lockwood South in 1859 and a government school was opened in Lockwood in 1864. Within 10 years the Lockwood South school came under government operation. The district has been divided into Lockwood North, Lockwood and Lockwood South, but most current maps now only mention the last two names.
Between 1864 and 1908 Lockwood was the administrative centre of Marong shire.
In 1903 Lockwood was described in the Australian handbook: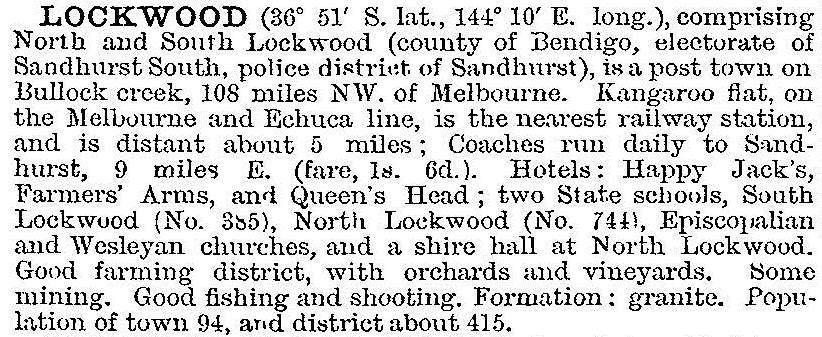 Lockwood continued to be an agricultural locality until the upgrading of the road, which has become a bypass for travellers wanting to avoid Bendigo. It then gained some roadside passing trade, and its proximity to Bendigo made it attractive for rural/residential living. The two schools continue with 181 pupils at Lockwood and 21 at Lockwood South (2014). There are also two churches, a hotel, and a public hall. The brick Uniting (originally Wesleyan, 1872) church at Lockwood South is an impressive building.
Census populations have been:
census date
population
 
Lockwood
Lockwood South

Lockwood South and environs

1861
71
 
 
1871
92
 
 
1881
402
 
 
1911
362
 
 
1921
151
109
 
1947
141
51
 
1961
81
119
 
2006
740
 
926
2011
756
 
906
Further Reading
Ken Arnold, Bendigo its environs: the way it was, Bendigo, 2003