Mornington Shire
Mornington shire (1871-1994), situated about 45 km south of Melbourne, faced the eastern side of Port Phillip Bay. Its coastline extended from Canadian Bay, Frankston, to Martha Point near Safety Beach. Its area was 91 sq km.
The first local government body in the Mornington district was the Mount Eliza road board (1860) with jurisdiction over an area that included the future municipalities of Frankston and Hastings. Mount Eliza is a prominent rise near Canadian Bay. On 24 November 1871 the road district was changed to Mornington shire.
The shire's administrative centre was Mornington, Frankston grew in the 1880s and Hastings was over on Western Port Bay. Strains occurred in the shire. Mornington felt aggrieved that it contributed over half the rate revenue but having only three of nine councillors; Frankston felt ready for self-rule; and Hastings felt left out of things. Separation into three shires occurred in 1893-94 and Mornington shire was reduced from 125 to 35 sq miles.
Mornington township was a seaside resort and market town for Mornington Peninsula. It had livestock saleyards between the Tanti Hotel and a railway stopping place (1889) connecting Mornington to Frankston via Moorooduc and Baxter. There were bay shipping services from the Mornington pier. The hinterland was rural, remaining so for the life of the shire. Urban growth was along the coast to Mount Martha and, from the 1950s, eastwards from Mornington township. In 1946 Mornington shire was described in the Australian blue book: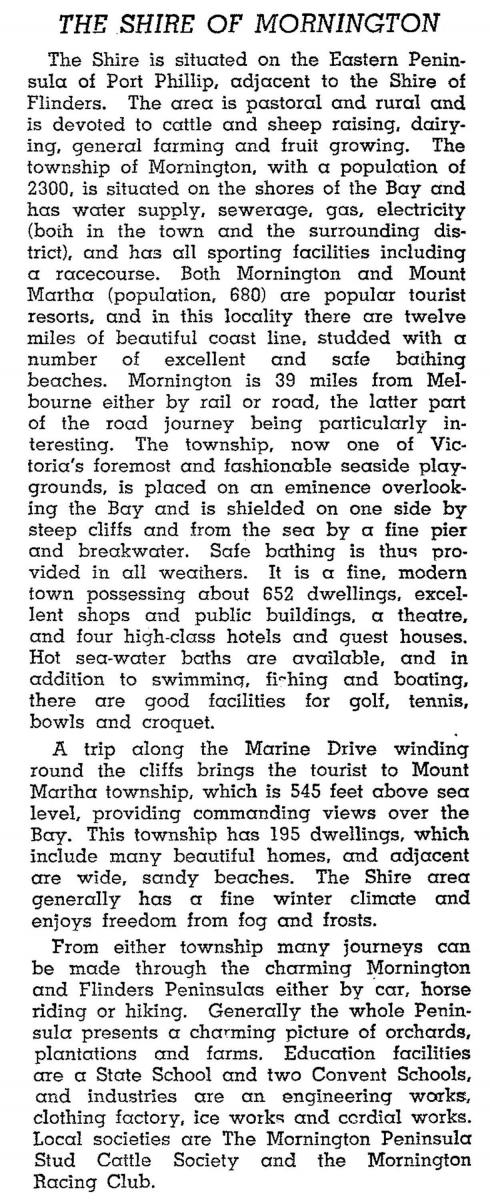 The transformation of Mornington from a rural and holiday township to a segment of the postwar bayside urban corridor was continuous during the 1950s to 1990s. Residential property values tended to be higher than in Frankston or Dromana-Rye, although the Housing Commission built an estate of lower-priced houses at Tanti Park (east of Mornington) during the 1960s. Coastal houses along the Esplanade, opening on to secluded beaches, have retained their appeal and their high prices. Mount Martha's median house prices are slightly higher than Mornington's.
In 1994 farming occupied 34% of the shire's area. There were 3600 meat cattle, 1750 sheep and lambs and a harvest of 81 tonnes of grapes for several small wineries.
On 15 December 1994, Mornington shire was united with Flinders and Hastings shires and part of Frankston city to form Mornington Peninsula shire.
Mornington shire's census populations were:
| census date | population |
| --- | --- |
| 1871 | 1539 |
| 1881 | 2058 |
| 1891 | 3693 |
| 1901* | 1301 |
| 1921 | 2202 |
| 1947 | 4004 |
| 1954 | 5793 |
| 1961 | 7819 |
| 1966 | 10,217 |
| 1971 | 14,289 |
| 1976 | 20,900 |
| 1981 | 24,600 |
| 1986 | 28,500 |
| 1991 | 32,100 |
*after Frankston and Hastings were severed
Further Reading
Leslie Moorhead, Mornington in the wake of Flinders, Shire of Mornington, 1971
Shire of Mornington Heritage Study, Graeme Butler and Associates, Mornington Peninsula Shire Council and Australian Heritage Commission, 1994
Mornington, Mount Martha and Tanti Park entries