Oxley
Oxley is an agricultural village on the King River, 12 km south-east of Wangaratta in north-east Victoria.
It was named after the Oxley Plains. In 1824 the explorers Hume and Hovell named the plains after the New South Wales Surveyor-General, John Oxley. The township was the administrative centre of Oxley shire until 1936, although council meetings continued at the shire hall in Oxley until 1966.
Oxley is west of Beechworth and the Ovens Valley gold diggings which began in 1852. In that year the township of Greta, south-west of Oxley was surveyed, and it was a stopping-off place en route to the goldfields. Travellers then crossed the King and Ovens Rivers. An east-west road was formed across the Oxley Plains between the crossing places on the rivers, and the Oxley township grew at the King River crossing place. About 4 km eastwards Milawa township formed, and the two competed for trade and growth for decades to come. The first school, although named Oxley, was opened in Milawa in 1864. The Oxley village's school was opened 10 years later.
The Oxley Road District was proclaimed in 1862, and became a shire in 1865. Meetings were held in Milawa until a shire hall was built in Oxley in 1875. (Milawa had the court of petty sessions). In 1903 the Australian handbook described Oxley: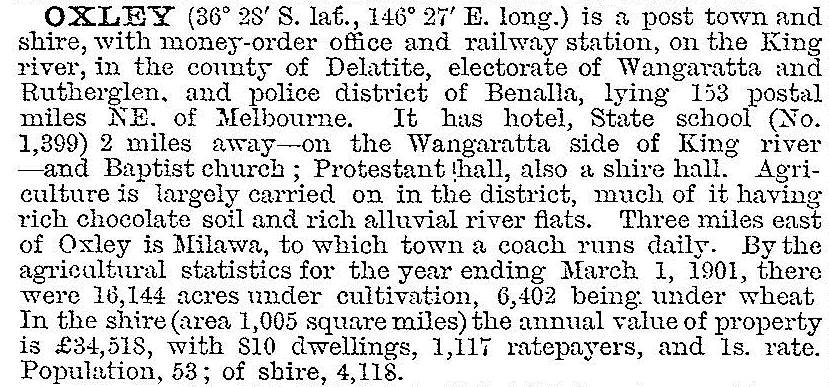 Although the town had the same name as the shire it was only a small settlement. Wangaratta became the location of the council offices in the 1930s. Many inhabitants shopped in Wangaratta or Myrtleford, and Moyhu in the middle of the shire, which is considerably larger than Oxley.
Oxley is situated on the Gourmet Trail tourist route which is centred on Milawa. The township has a store, primary school (75 pupils, 2014), hall and a recreation reserve. The shire hall and a former steam driven flour mill are on the Register of the National Estate.
Oxley's census populations have been:
| Census date | Population |
| --- | --- |
| 1881 | 81 |
| 1921 | 194 |
| 1954 | 205 |
| 2006 | 289 |
| 2011 | 354 |
Further Reading
Graham Jones, Memories of Oxley, Wangaratta, 1995
M.A. Moonie, Bridge to the future: the story of local government in Oxley Shire, 1862-1962, c1963