Percydale
Percydale is a rural locality and former goldfield in the Pyrenees Ranges, 7 km north-west of Avoca in central-west Victoria.
Alluvial gold was mined in the Percydale area – originally called Fiddlers Creek – from 1854 onwards. A fresh find and a rush in 1869 brought a population of over 2000 people. A school was opened in 1870. Percydale appears to have been named after the son of a Police Magistrate, Charles Carr.
There was a substantial population of Chinese miners, and a pork butchery and a Chinese hotel are recorded as operating in the 1870s. Several mines were opened during the 1870s and worked until the turn of the century. The Raggedy Gully lead, about 5 km west of the Percydale township, provoked the last big gold rush in the Avoca district (1871), bringing 1000 or more miners. A cyaniding works began in 1904.
In 1903 Percydale was described in the Australian handbook: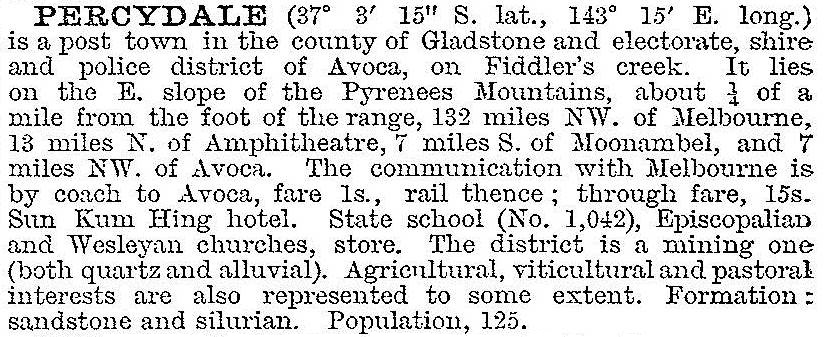 In addition to mining, Percydale had a slate quarry. Examples of the slate can be seen in the masonry of some old farm buildings, including a dairy.
In 1963 the Blue Pyrenees (Chateau Remy) vineyard was planted south of Percydale, initially for brandy production but later diversifying into table and sparkling wines. It was the first of the modern vineyards which are in the Pyrenees region.
Percydale has a scattering of buildings, and the school closed in 1942. Its census populations were:
| CENSUS DATE | POPULATION |
| --- | --- |
| 1871 | 904 |
| 1891 | 146 |
| 1933 | 25 |
Further Reading
Elizabeth Austin, Percydale: short notes on its history, the author, c1966
Percydale State School Victoria No. 1042, 1874-1942, Mt Gravatt, Qld, 2006
W. Jacobs and K. Twigg, The Pyrenees Shire: Avoca Shire heritage study 1864-1994, 1995