Rokewood
Rokewood, a rural township, is 40 km south of Ballarat and on a minor road from the Geelong area to Skipton.
Rokewood began as a crossing place on the Kuruc A Ruc Creek, and it was gazetted as a township in June 1853. It is thought that the town's name was inspired by English miners after the Rokewood family in Suffolk, but the account is put in doubt by the fact that gold was not discovered in Rokewood until Spring, 1853.
The Frenchman's and the Break O'Day gold leads ran northwards from Rokewood to Corindhap, about 4 km away. Mining, however, was concentrated at Rokewood, particularly for a distance of about 2 km north of an open cut.
Rokewood was the main town of a gold-mining area which includes Dereel and Rokewood Junction, and it became the administrative centre for those areas. A hotel was opened in 1854 and a Catholic school was opened in about 1857. The Rokewood rush occurred in 1858, when a Free Presbyterian school was also opened. The open country was also suitable for farming. Subsequently town amenities included a Presbyterian church (1866), a mechanics' institute (1868) and a public reserve (1872), and by the early 1870s there were 54 dwellings and three hotels recorded in Rokewood.
In 1864 the Leigh shire was proclaimed and Rokewood became one of the shire's two administrative centres. The offices were in Rokewood and the hall in Warrambine Creek, conveniently midway between Rokewood and Shelford.
Rokewood maintained a mixture of mining and farming until the 1900s, when it was described in the 1903 Australian handbook: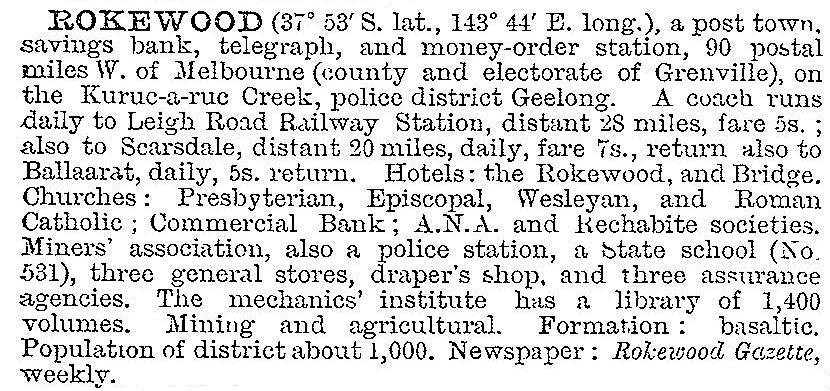 A railway connection was made in 1911 when lines were joined from Cressy to Scarsdale, passing through Rokewood. The line continued until 1953. By then Rokewood was mainly agricultural and pastoral, with several of the mines having been damaged by water.
Rokewood has a general store/post office, a golf course, a recreation reserve, a swimming pool, a primary school (46 pupils, 2014), a hotel, a public hall, Uniting and Catholic churches and a customer services centre for the Golden Plains shire (the successor to Leigh shire).
The Rokewood-Corindhap community plan 2014-16 included provision for the continuation of a streetscape project, installation of heritage signage, inauguration of a Harvest Festival and the creation of a fitness circuit in Rokewood, among other initiatives.
Its census populations have been:
| census date | population |
| --- | --- |
| 1861 | 91 |
| 1871 | 276 |
| 1891 | 205 |
| 1901 | 524 |
| 1921 | 289 |
| 1933 | 320 |
| 1947 | 215 |
| 1961 | 178 |
| 1966 | 132 |
| 2006 | 244 |
| 2011 | 433 |
Further Reading
Gladys Seaton, Gold reef and silver tussock: a history of the Shire of Leigh, Rokewood, 1988