Serpentine
Serpentine is a small rural town on the Loddon Valley Highway, 33 km east of Wedderburn. It is situated next to the Serpentine Creek, about 5 km upstream from where the creek joins the Loddon River.
The Serpentine pastoral run was taken up in 1843, comprising 445 sq km east of the Serpentine Creek. An unsurveyed Serpentine township began after farm selections were enabled by the Land Act 1862. When surveyed in 1866 the township was named Janiembar, but the name did not take on. Bailliere's Victorian gazetteer, 1865, recorded Serpentine as having a hotel, about 34 inhabitants, and being in a mainly pastoral area with some timber cutting.
Serpentine became the administrative centre of the local government district: the Road District (1864), the East Loddon Shire (1864) which replaced the Road District, and the Loddon United Water Trust (1883). A school was opened in 1873, and Anglican and Catholic church congregations were formed, meeting initially in the public hall before church buildings were constructed.
In 1903 Serpentine was described in the Australian handbook: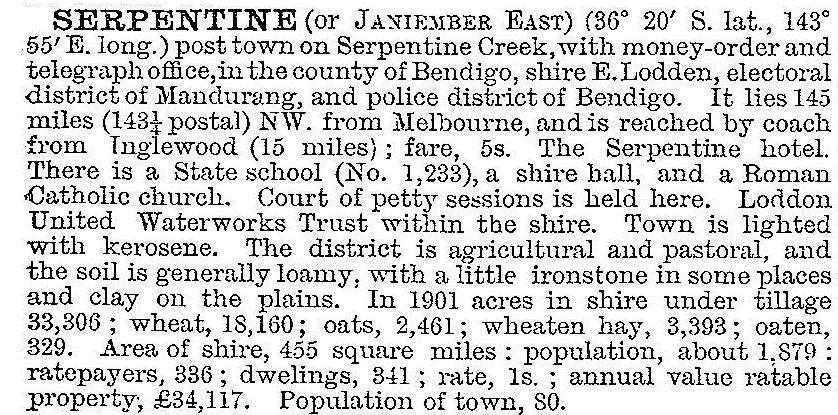 Numerous weirs were constructed on the Serpentine Creek and the Loddon River for farm water. However, with the construction of the Waranga Western Channel across the East Loddon Shire in the early 1920s, all the Serpentine district became equally well served. But other towns were also on railway lines, and more central than Serpentine which was at the shire's western edge. Dingee secured a bush nursing centre and the district's consolidated school (1951), when Serpentine's and other local schools closed.
Serpentine sits on a flood plain which extends to Kerang. A large lagoon lies between the township and the Serpentine Creek. In the township there is a recreation reserve, a hall, tennis and bowling facilities, Anglican, Uniting and Catholic churches, a hotel and a general store.
Serpentine was famed for being the starting place for Australia's first aerial derby in 1920, conducted between Serpentine and Melbourne in support of the Peace Loan. It is also famed for a large brick wool shed, with 28 stands, built in 1871 on the East Loddon station, most probably to a design by the Bendigo architect, W. Vahland. The building is on the Australian and Victorian historic buildings registers. Vahland also designed the original shire offices, with an elaborate facade and porch. They were demolished in 1969.
Water surged down the Loddon River during January and February 2011, inundating vast areas of farmland and damaging homes and shops in towns including Serpentine, Newbridge and Bridgewater.
Serpentine's census populations have been:
| area | census date | population |
| --- | --- | --- |
| Serpentine | 1911 | 188 |
|   | 1921 | 223 |
|   | 1961 | 213 |
| Serpentine and environs | 2006 | 380 |
|   | 2011 | 307 |
Further Reading
Michael Sharland, These verdant plains: a history of the Shire of East Loddon, 1971