Serviceton
Serviceton, now a rural village, is a former railway town on the line from Melbourne to Adelaide, 2 km east of the Victorian-South Australian border.
The choice of the town's location rested on there being a strip of land about 4 km wide on the eastern side of the present state border line. South Australia was of the view that in surveying the 141st degree of longitude the surveyor had erred by about 4 km, wrongly fixing the border in South Australia. The disputed territory was not resolved until after federation in 1901, finally going to the Privy Council in 1911 which found against South Australia.
When plans were afoot for a railway between Melbourne and Adelaide in the early 1880s it was agreed that a border station was needed for handling customs matters and for engine maintenance, refreshments and overnight accommodation: the journey took two days. It was agreed that the station be located in the disputed territory. The line generally followed the overland gold escort route surveyed in 1852 when gold from Victorian diggings was exported for more profitable sale through Adelaide.
The railway station comprised a small township with cottages for railways staff. It was named after James Service, Victorian Premier, 1883-86. The creation of the town and the opening of the railway in 1887 were accompanied by the opening of a school, a public hall, a general store, a baker and a saddler.
Livestock yards were built in 1900. Church services were held in homes and the public hall until the 1920s, when Lutheran (1924), Methodist (1926) and Anglican (1929) churches were opened. In 1903 Serviceton was described in the Australian handbook: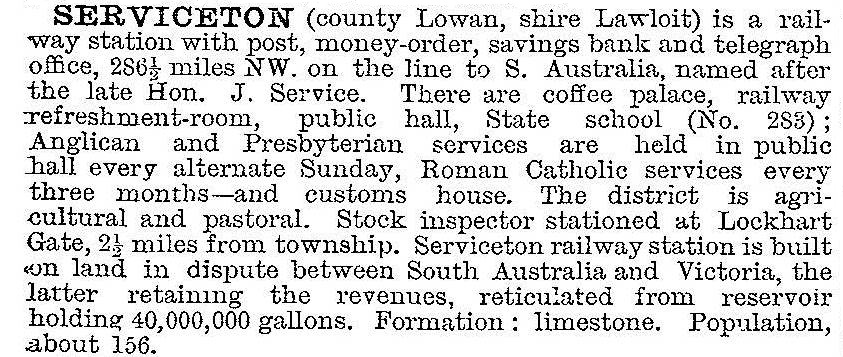 Sporting clubs were established, including golf (1913) and bowls (1936). Horse racing predated the establishment of Serviceton, having begun as the Lockhart Gate Race Club, named after the district's original pastoral run. At various times the run had up to 25,000 sheep. Silos were built at Serviceton in 1938, in common with grain growing areas around Kaniva.
In 1952 diesel-electric began to displace steam engines, and the Serviceton engine sheds were closed. The closure of the school in 1952 was occasioned by a decision to consolidate isolated schools by a district school in Kaniva. The Victorian Railways nevertheless built a large hall in 1958. Faster trains, increased road haulage and decreased passenger numbers saw the railway refreshment rooms close in 1981, and the brick station with its 300 yard platform was closed in 1986.
Serviceton has a general store, grain silos, a public hall, a recreation reserve, a bowling club, a golf club, a Uniting church and a Church of Christ.
The railway station is on the Australian and Victorian heritage registers.
Serviceton's census populations have been:
| area | census date | population |
| --- | --- | --- |
| Serviceton | 1901 | 161 |
|   | 1911 | 163 |
|   | 1921 | 356 |
|   | 1954 | 338 |
|   | 1961 | 355 |
|   | 1966 | 185 |
| Serviceton and environs | 2011 | 270 |
At the 2011 census, farming accounted for 61% of employment.
Further Reading
L.J. Blake, Tattyara: a history of Kaniva district, Shire of Kaniva, 1981
Serviceton: a frontier town or no man's land, 1887-1987, Serviceton centenary committee, 1987