St Kilda
St Kilda is a residential suburb on Port Phillip Bay, 6 km south-east of central Melbourne.
During 1841-42 a cargo yacht 'Lady of St Kilda' was anchored in the bay, having been placed there for sale or barter. A colonial historian, Henry Gyles Turner, recorded that J.B. Were had an interest in the yacht and selected the raised sea side knoll at St Kilda as the place for a picnic. The yacht's captain was apparently present. From that event it appears that the place was named after the yacht. (The yacht's name was presumably taken from the Hebridean island of St Kilda.)
In December 1842, allotments from a government survey were sold in the vicinity of Fitzroy Street and The Esplanade. Further lots were sold between 1846-51, by when St Kilda was becoming an address of the well-to-do. The route to St Kilda from Melbourne was a sandy track, commencing at a bridge (1846) over the Yarra River. The track was unsafe for travellers, and Strutt's 'Bushrangers' painting was reputedly inspired by an event on the St Kilda Road. An early hotel at St Kilda, the Royal, was functioning by 1849.
Churches and schools
Churches and schools began in St Kilda in 1849, establishing a rich pattern of religious and educational institutions. The Anglicans held their first service in December 1849, opened Christ Church and a school in 1851 and the present building in Acland Street in 1854; a second parish, All Saints, opened its church in Chapel Street in 1861. The Catholic Church opened a church and school in 1853 in St Kilda East and when the building could not cope with the growing congregation the Church opened Sacred Heart in St Kilda in 1884. The Wesleyans held their first service in 1853 and built a church in Fitzroy Street (1857) which is on the Victorian Heritage Register. Presbyterians acquired a church in 1855 and the Free Presbyterians in 1864. Both churches built permanent buildings in Chapel Street.
Recreation
In 1857 a railway line was built from Melbourne to St Kilda, and a connection loop between St Kilda and Windsor railway stations brought increased patronage to the privately run sea baths, the jetty promenade and the St Kilda Cup which was run at a racecourse near the Village Belle hotel. Cricket and bowling clubs were formed in 1855 and 1865. By the mid-1860s St Kilda had about 15 hotels including the George, formerly the Seaview (1857). St Kilda by then was a borough (1863), having been proclaimed a municipality separate from Melbourne city on 24 April 1855.
Jewish community
In 1870 Moritz Michaelis, a Jewish importer and merchant, built 'Linden', his residence at 26 Acland Street. The next year he and several other Jewish residents met to form the St Kilda Hebrew Congregation. Michaelis laid the foundation stone for a synagogue in Charnwood Crescent. When Michaelis died at Linden in 1902, St Kilda had a well established Jewish community. The community has a landmark synagogue at the corner of St Kilda and Toorak Roads and several religious and educational institutions extending eastwards to Elwood and Caulfield.
Character
St Kilda's population more than doubled between 1870 and 1890 to about 19,000 persons. The opening of tram services to St Kilda in 1888 and 1891 brought more pleasure seekers, somewhat lowering the tone and impelling the well-to-do towards South Yarra and Toorak. The 1890s Depression caused several of the large mansions to be subdivided for apartment or boarding-house accommodation. 'Oberwyl' was a spectacular example of a mansion built in 1856, whose owner failed in the 1870s, and the building became a school.
The pier and breakwater were constructed in sections between the late 1850s and 1884, adding to St Kilda's attraction. The Esplanade was landscaped and lit. In 1903 the Australian handbook described St Kilda:
Public transport
By the 1920s St Kilda had a web of public transport by train and tram:
| Type | Route | Year Opened |
| --- | --- | --- |
| Train | Melbourne-Windsor-Sandringham | 1859-60, electrified 1912 |
| Train | Melbourne-South Melbourne-St Kilda | 1857, converted to tram 1987 |
| Tram, cable | St Kilda Road | 1888, electrified 1926 |
| Tram, cable | Chapel Street | 1888, electrified 1926 |
| Tram, cable | Fitzroy Street and Esplanade | 1891, electrified 1925 |
| Tram, electric | Carlisle Street, Luna Park | 1913 |
| Tram, electric | Park Street | 1925 |
The latest E-class trams began running on the city's busiest route, the 96 between St Kilda and Brunswick, in 2013.
Carnival town
St Kilda's reputation for outdoors pleasure was enhanced by the formation of a council foreshore committee in 1906. It had the services of Carlo Catani an experienced engineer, who designed much of the foreshore reclamation and the Catani Gardens at the end of Fitzroy Street. The foreshore was hired out to open air show people, a forerunner to Luna Park (1912). St Kilda's mass entertainment function was further broadened by the Palais de Danse (1913), which became a cinema two years later when a second dance venue was built.
St Kilda changed from being a patrician village to a carnival, spectacular St Kilda, according to its historian, J.B. Cooper (1930). However, it was not altogether a classless carnival: St Kilda pier, The Esplanade and the St Kilda Road boulevard provided an ideal entry point for vice regal and other visitors, such as Lord Brassey (1895), the Duke and Duchess of York (1901), Lord Jellicoe (1919), the Prince of Wales (1920) and the United States Pacific Squadron (1925). Cooper devoted two chapters to them. These events, however, were interludes during a trend to raffishness. Some of metropolitan Melbourne's first flats were built amidst St Kilda's boarding houses and night time entertainments were joined by brothels and street prostitution. The parks were a cheap substitute for rented rooms, and motor cars provided mobility. Melbourne City Council's efforts to clean up Little Lonsdale Street in the 1930s forced women to work south of the Yarra River and their male clients to seek them there. In 1932 St Kilda's Victoria Cross hero and ex-Mayor, Albert Jacka died, at a time when the Depression was biting into the livelihoods of residents and local entertainers.
The Depression, however, heightened the yearning for entertainment, and the Palais de Danse enjoyed strong attendances, as did the Palais Theatre (1927). In 1939 the St Moritz ice skating rink was opened in a former theatre which, between 1933 and 1935, had been the film studio for Frank Thring's Efftee productions.
During the 1930s flat construction outnumbered house construction in St Kilda by about ten to one. The growth in population density was high, and local shopping centres were enlarged.
World War II
The outbreak of war brought enlistments by local men and women, and the Pacific war brought American troops to Australian shores. St Kilda's entertainment precinct was a magnet for Australian and American services personnel. The artist Albert Tucker painted some memorable 'Images of Modern Evil', inspired by his observations of Australian 'good-time girls' and soldiers on leave. On the other hand an illustrated pamphlet with verse composed round the popular tune 'Thanks for the Memory' equally well captured the wartime relationships for many others.
During 1941-43 the Prest social survey conducted by the University of Melbourne confirmed that St Kilda's grand days had come upon mixed fortunes. Among the well off there were genteel poor, and lodgers and poor families were crowded into decayed residences.
Postwar
St Kilda was described in 1946 in the Australian blue book: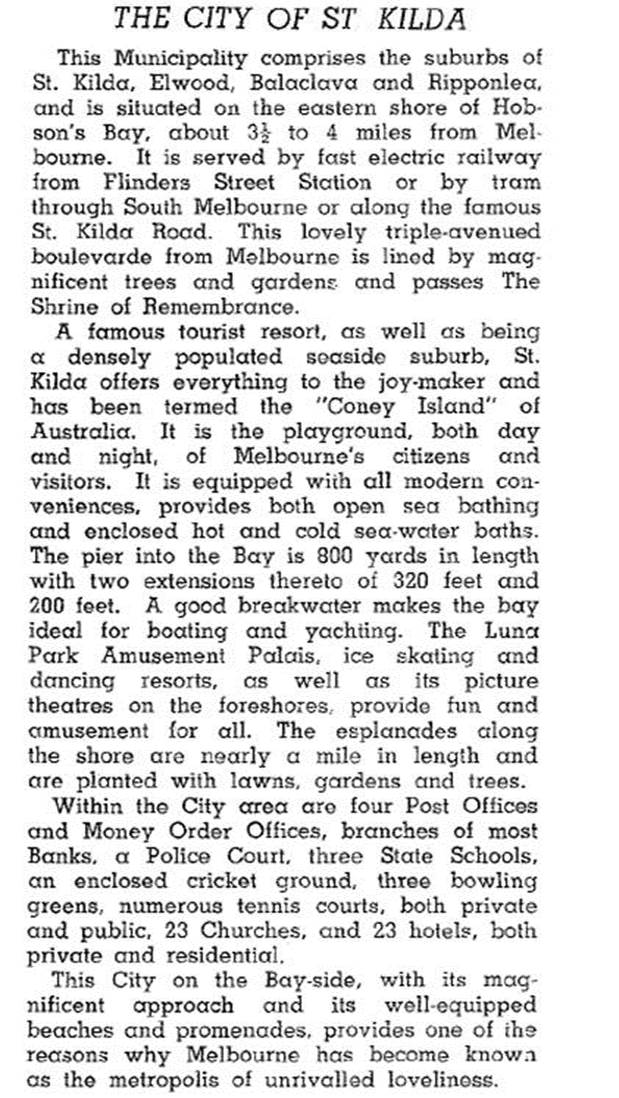 The American invasion retreated as the Allied forces advanced on Japan. Another invasion in the postwar years was increasing cosmopolitanism, as immigrants journeyed to the beach for outings. Foreign menus were added to St Kilda's eateries. Candidates for Council election, however, became involved in clean up campaigns, alarmed by deviant behaviour, crime, prostitution and drunkenness, but the council was unwilling to acknowledge that standards had slipped.
Culture clash
More flats were built during the 1960s, mostly privately financed, and some on undersized sites. Entertainment such as Whiskey-a-Go-Go and Les Girls became metropolitan venues, and the Council was content to focus on these aspects rather than welfare needs or a municipal library. In the late 1960s, however, contesting views on sexual behaviour were played out as Bertram Wainer campaigned on abortion and Germaine Greer, who grew up in Elwood, published The Female Eunuch. The Council was forced to confront unconventional behaviour in its area in the 1970s as evidence increased about massage parlours, drug trafficking and street kids.
Despite those things the Palais hosted the annual film festival, artists and galleries increased in the 1980s and the Astor theatre changed to less commercial art films after having been a Greek film cinema. The council was contested by reform minded councillors, and a library was opened in 1973.
In the 2000s two foreshore sites were threatened by over-development for apartments, giving rise to strong local protests. The Esplanade Hotel (1879) was retained on the 'triangle site' with the Palais Theatre (1927) which involved the council in financial compensation when approvals were withdrawn.
Traffic
The physical makeup of St Kilda was changed by increasing traffic from Brighton Road through the St Kilda junction. In 1968 road widening works were begun and the road south to Carlisle Street widened by 1975, involving demolition of the Junction Hotel and 150 other buildings. In 1969 the St Kilda marina was opened, following on from the Royal St Kilda Yacht club, becoming the Royal Melbourne Yacht Squadron and taking over the St Kilda baths which had been built in 1928.
Football
The St Kilda Football Club moved its home ground to Moorabbin in 1964, after having been at the Junction Oval since before its joining the League in 1897. The emotional loss was compensated by the Club's first premiership in 1966.
Gentrification
During the 1980s and 1990s St Kilda became better regarded for its polite cosmopolitanism. Kerbside cafés near Acland Street's superb cake shops drew tourists, and Acland Street became a pedestrian mall. An art and craft market was opened on The Esplanade in 1969. St Kilda's natural attractions became evident to new residents in search of apartments and restored cottages. Between 1987 and 1996 the median house price in St Kilda increased from 165% to 182% of the metropolitan median, but houses were becoming less common.
During the course of St Kilda's social change its schools and churches have maintained a strong presence. In 1990 the municipality had five government school campuses and 14 non-government campuses. St Michael's Grammar school (1895, coeducational), had 1300 pupils from kindergarten to year 12 in 1992.
St Kilda has parks and gardens on the foreshore a Botanical Garden and a reserve known as the Peanut Farm. There are shops in Carlisle Street, Fitzroy Street and St Kilda Road south of the junction. Acland and Barkly Streets have large drive-in centres as well as the older shopping strips.
Suburb
St Kilda suburb is adjoined by St Kilda West, Albert Park, Windsor, St Kilda East and Elwood. Its boundaries are Fitzroy Street, Dandenong Road, Chapel Street and Dickins Street. Its western boundary is the beach.
Local government
From being a municipal district in 1855, St Kilda was proclaimed a borough in 1863 and a city in 1890. On 22 June 1994, St Kilda city was united with South Melbourne and Port Melbourne cities to form Port Phillip city.
In 2012 the Astor Theatre was purchased by new owners from St Michael's Grammar School, which had wanted to use it for performing arts, rather than a film theatre. The continuance of the theatre in 2015, however, was uncertain. The Stokehouse restaurant on the St Kilda foreshore was destroyed by fire in 2014.
The St Kilda municipality had census populations of:
| census date | population |
| --- | --- |
| 1861 | 6408 |
| 1871 | 9085 |
| 1881 | 11,654 |
| 1891 | 19,838 |
| 1901 | 20,542 |
| 1911 | 25,334 |
| 1921 | 38,579 |
| 1933 | 46,579 |
| 1947 | 58,318 |
| 1954 | 53,301 |
| 1961 | 52,205 |
| 1966 | 58,138 |
| 1971 | 61,203 |
| 1976 | 54,800 |
| 1981 | 50,700 |
| 1991 | 45,481 |
St Kilda suburb's census populations have been:
| census date | population |
| --- | --- |
| 2001 | 15,270 |
| 2006 | 16,122 |
| 2011 | 17,795 |
At the 2011 census the suburb's occupied dwellings were:
Type
% of total occupied dwellings
 
St Kilda

Australia

Separate house
10.4
75.6
Row house
10.8
9.9
Flat, unit
77.9
13.6
There are three synagogues in the suburb, along with the Jewish museum.
Further Reading
J.B. Cooper, The history of St Kilda from its first settlement to a city and after, 1840 to 1930, 2 vols, Printers, 1931
Anne Longmire, St Kilda: the show goes on: the history of St Kilda, volume 3, 1930 to July 1983, Hudson Publishing, 1989
David Bick, Discover St Kilda's heritage, St Kilda, 1985
Gillian Upton, Splash: St Kilda beach and baths, 2001
Ian A. Brady, Prahan and Malvern Tramways Trust: Melbourne's foremost municipal tramway, Sydney, 2011
Balaclava, Elsternwick, Elwood, Ripponlea, St Kilda East and St Kilda West entries