Trentham
Trentham is a rural township north of the Wombat State Forest, between Daylesford and Woodend. It is near the headwaters of the Coliban River and is 75 km north-west of Melbourne.
In 1859 gold was found in the vicinity of Trentham and the area was known as Clowes (after the proprietor of a pastoral run) or Ogdens Forest (Ogdens Inn being the first in the area). The diggings were part of a band of gold-bearing country which extended south across the dividing range through Newbury, Barrys Reef and Blackwood. The diggings were also known as Blue Mountain. The origin of Trentham's name is obscure, sources such as Trentham, Staffordshire, England and a Lord Trentham having been suggested. (The Lord is probably fictitious.)
A Presbyterian church was opened in 1860, and farm selections were opened up in the early 1870s. Timber cutting was a pre-requisite for establishing farmlands. A Presbyterian church was built in 1871, and Anglican, Catholic and Methodist churches between 1882 and 1892. In 1880 a railway line was opened from Carlsruhe (near Kyneton) to Daylesford, via Trentham.
In 1893 the brothers Benjamin and William Trewhella bought a timber mill at nearby Lyonville. They invented a device for handling logs, known as the Trewhella jack, which became the manufacturing basis for their foundry and factory in Trentham. (William had served his apprenticeship at the famed Phoenix Foundry in Ballarat.)
In 1903 Trentham was described in the Australian handbook: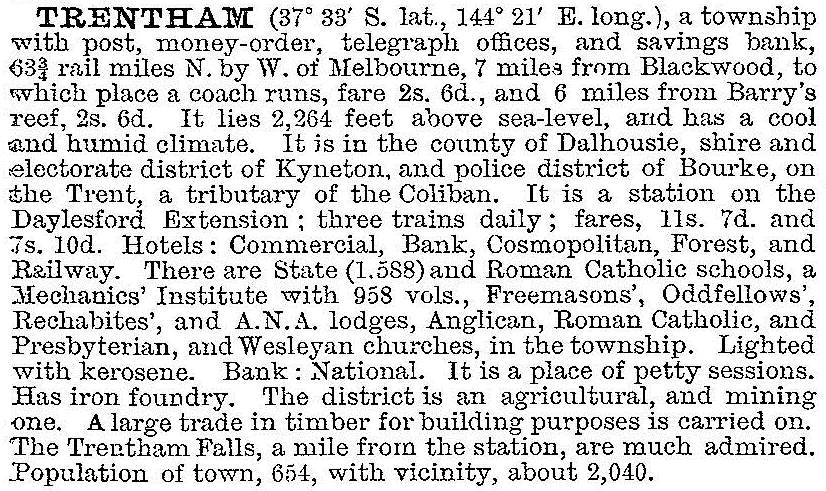 By the turn of the century most of the good timber had been removed from around Trentham, but its economy was assisted by the cutting of firewood, its function as a railhead for Blackwood and employment at Trewhella's factory. Forest regrowth and plantation forests enabled a timber impregnation factory to be opened after World War II. The elevated, cool climate was also suitable for potato growing and plant and tree nurseries. In 1978 the railway line was closed, but the station has been preserved. Monthly markets are held there.
Trentham has a primary school (97 pupils, 2014), three churches, a hall (mechanics' institute), a private bush-nursing hospital, a timber-treatment plant and sawmill, a hotel, a golf course, and bowling and tennis facilities. The timber Cosmo Hotel was badly damaged by fire in 2005. A clock in the main street celebrates Trentham's famous country doctor Gweneth Wisewould (1884-1972).
Trentham's tourist attractions tend to be overlooked because of the town's location away from main highways. Attractions include the Trentham Falls, the historic Trewhella foundry, a berry farm and plant nurseries. The Trentham water-supply picnic area and Firth Park forest picnic area are in the direction of Trentham East. Still dotted around Trentham's farms are huts used by itinerant spud diggers.
Trentham's census populations have been:
| census date | population |
| --- | --- |
| 1871 | 517 |
| 1881 | 252 |
| 1891 | 654 |
| 1901 | 694 |
| 1911 | 1139 |
| 1921 | 759 |
| 1933 | 658 |
| 1947 | 705 |
| 1954 | 762 |
| 1961 | 734 |
| 1966 | 647 |
| 1976 | 581 |
| 1986 | 554 |
| 1996 | 658 |
| 2006 | 629 |
| 2011 | 719 |
Further Reading
Norm Houghton, Timber and gold: a history of the sawmills and tramways of the Wombat Forest, 1855-1940, Light Railway Research Society of Australia, 1980
G.W. Trewhella, Early history of the Trentham district, Trentham Historical Society, 1989
Ina Bertrand (ed), Take a walk around Trentham, Trentham and District Historical Society, 2006
Ina Bertrand (ed), Celebrating Trentham's sporting history, Trentham and District Historical Society, 2006
Ina Bertrand and Gael Elliott, Hard day's work: growing spuds around Trentham, Trentham and District Historical Society, 2009
Gweneth Wisewould, Outpost: a doctor on the Divide, Kilmore, 1971
Ina Bertrand and Jan Robertson, Trentham at war: Boer War, World War 1, World War 2, Trentham, 2012