White Hills
White Hills is a suburb of Bendigo, on the Midland Highway 4 km north-west of the city centre. Its name came about from the colour of the clay which was exposed by gold miners at that part of the Bendigo diggings. The Bendigo Creek, the site of the first gold find, runs upstream through White Hills.
White Hills apparently attracted a wide range of nationalities, particularly Chinese, which is attested to by the inscriptions on graves at the White Hills cemetery (1854). Nevertheless, the first church school which opened was Wesleyan (1853), followed by an Anglican school two years later. A government primary school opened in 1877. The Bendigo racecourse was laid out on the edge of White Hills, inspiring the name of Epsom for the neighbouring locality.
A short distance from the cemetery the Bendigo Botanical Gardens were laid out in 1857.
In 1903 White Hills was described in the Australian handbook: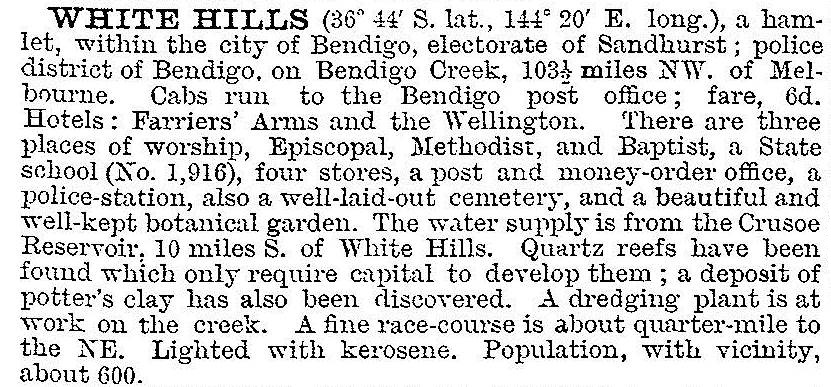 Within two decades White Hills was described as a minor suburb of Bendigo, and in 1941 an Army Ordnance factory was opened on the Bendigo side of White Hills.
In 1960 White Hills technical school was opened, signifying the locality's urban growth. There is also a recreation reserve, swimming pool, Anglican church and a Catholic church and school. All these places are along the Midland Highway (Napier Street), along with the botanic garden with its war memorial archway entrance. The shops, post office and bank are near the Anglican church, and the bowling club is nearby. The technical college became Weeroona college by the merger of East Bendigo primary school with it in 1999. In 2010 it changed from P-10 to years 7-10.
East of the highway and railway there is the White Hills Sediments Gold Reserve, with remains of Chinese gold workings. South of there stands the actual White Hill, with an elevation of 231 metres.
White Hills' census populations have been:
| census date | population |
| --- | --- |
| 1881 | 69 |
| 1954 | 122 |
| 2001 | 2417 |
| 2006 | 2686 |
| 2011 | 3275 |