Winchelsea
Winchelsea, a rural town on the Princes Highway, is 35 km south-west of Geelong. It is situated where the Barwon River crosses the highway, in country which attracted pastoralists in the 1830s, some of whom later became prominent landholders.
Two years after the settlement of Melbourne, the Austin brothers took up their Barwon Park pastoral run, Thomas Armytage took up his Ingleby run and Henry Hopkins took up his Wormbete run in the Winchelsea area. On the track at the Barwon River crossing the Barwon Inn was opened in 1842, and an Anglican church and school were opened in 1846. A town was surveyed in 1850s, and named Winchelsea, probably after the seaside port in Sussex, England.
Winchelsea village gained a few stores, a school (1854), an Anglican vicarage and a cricket club (1858). More momentous things happened at Austin's Barwon Park when he imported wild rabbits for acclimatisation in 1859. They became particularly successful progenitors of some of Australia's rabbit plagues. In 1860 the Winchelsea Road District was proclaimed, and became Winchelsea Shire on 27 May 1864. During the next decade land became available for farm selections.
During the 1860s and 1870s a number of enduring private and public structures were built: the stone arch bridge over the Barwon River (1867), the shire offices (1867), the Presbyterian church (1870), Austin's Barwon Park mansion (1871), a Temperance Hall (1876) and the railway line from Geelong (1876). Philanthropist Elizabeth Harding (Thomas Austin's widow) donated funds for the Austin Hospital in Heidelberg, Melbourne. In 1903 Winchelsea was described in the Australian handbook: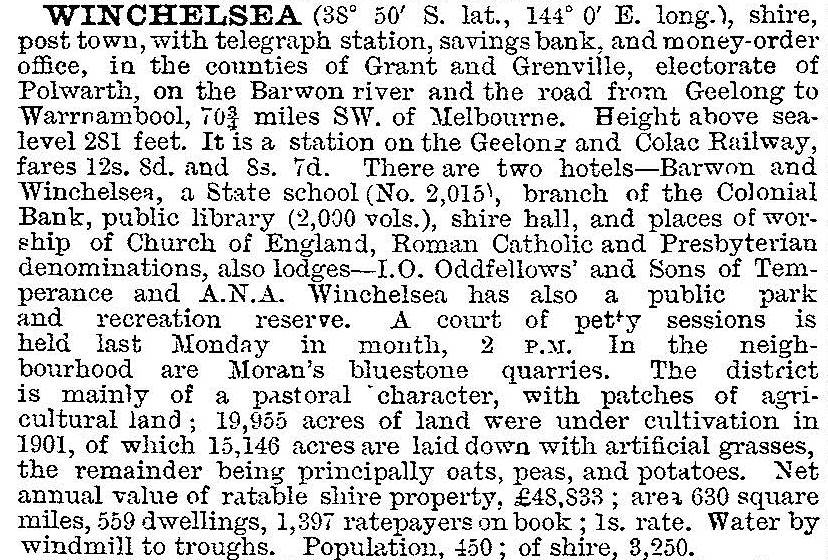 In 1915 a waterworks trust brought a reticulated town water supply. Winchelsea had a shire hall (rebuilt 1907) and the Temperance Hall, and in 1926 William Lawrence built the Globe Theatre for moving pictures. (Lawrence formerly of Deans Marsh, was the father of the operatic soprano, Marjorie Lawrence). A coal mine was worked south of Winchelsea at Wensleydale, and the World War II period brought a flax mill (1941-51) and a book bindery in the Temperance Hall (1946-53). The closure of those industries, including the mine in 1959, was cushioned by excellent postwar prices for wool. The town found money for a hospital (1957), an Anglican church hall, a bowling club and a swimming pool (1961-63). The primary school had secondary facilities, years 7 to 10 added during 1960-64. It has since reverted to primary years only, and had 140 pupils in 2014.
During the 1970s outlying township areas were developed for rural/residential living, and the population grew. The town's facilities grew with a leisure centre (1976), and the Temperance Hall was demolished in 1977. A town sewerage system began in 1983.
Winchelsea has a wide range of rural, sporting, hobby, fund raising and cultural bodies. The weekly Winchelsea Star newspaper began in 1977. There are Anglican, Catholic and Uniting churches, golf and bowls venues, a caravan park, a shopping centre, two hotels and two recreation reserves.
On Father's Day 2005 Robert Farquharson deliberately drove his car into a dam at Winchelsea, leaving his three sons to drown. In 2010 he was sentenced to life in prison with a non-parole period of 33 years.
The draft Winchelsea Structure Plan 2021 was released in 2005. Winchelsea had been identified as a growth node in the Great Ocean Road Region Strategy (2004).
Winchelsea's census populations have been:
| census date | population |
| --- | --- |
| 1861 | 214 |
| 1881 | 427 |
| 1901 | 446 |
| 1911 | 865 |
| 1921 | 838 |
| 1947 | 763 |
| 1954 | 1234 |
| 1961 | 1057 |
| 1966 | 907 |
| 1971 | 940 |
| 1976 | 921 |
| 1981 | 825 |
| 1986 | 890 |
| 1991 | 969 |
| 2001 | 1102 |
| 2006 | 1336 |
| 2011 | 1579 |
Further Reading
Julene Koster et al, Austin's Ford – Barwon – Winchelsea: time line 1835-1990, Winchelsea, 1990
E.B. Gregory et al, Coast to country, Winchelsea: a history of the Shire, Shire of Winchelsea, 1985
W.L. Koenig, History of the Winchelsea Shire, Winchelsea, 1935 and 1948