Long Gully
Long Gully is a suburb of Bendigo, 3 km north-west of the city's centre. The Long Gully Creek signifies the physical location of the suburb, and the Long Gully reefs ran southwards from Eaglehawk. It was particularly rich, realising yields as high as five ounces of gold to the ton. Long Gully included the area of Ironbark which is now a separate suburb.
Important reef mines were Hustlers (1853), Koch's Pioneer and Hercules, the last-mentioned achieving peak production in 1933.
There were commercial and civic centres in Eaglehawk Road, now Loddon Valley Highway, near Havilah Street and Creeth Street. Methodist and Anglican churches were opened (1865, 1883) and a mechanics' institute in about 1878. Each church also had substantial Sunday school halls. The government school (1878) superseded an Anglican school that had opened in 1856.
The mines were supported by foundries and engineering works, and the locally employed population supported local shops and hotels. In 1903 Long Gully was described in the Australian handbook: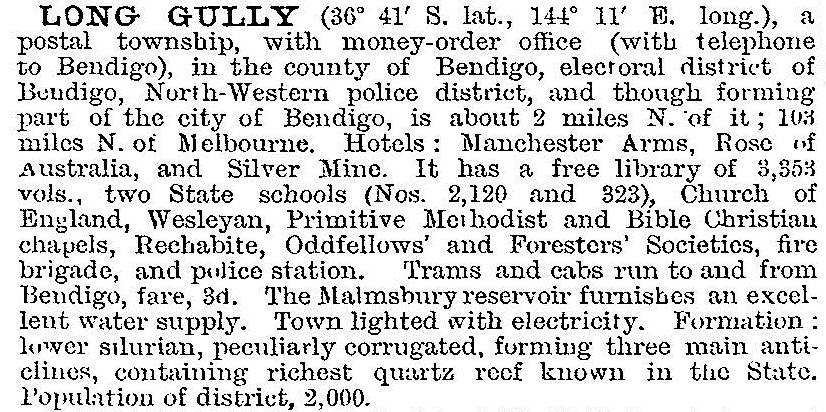 The southern part of Long Gully is distinguished by the Ironbark (creek) gully, and west of the Loddon Valley Highway is the Ironbark or Victoria Hill conservation area. It was an intensively mined area (1856-1949), with one shaft descending to 1402 metres. The Nell Gwynne poppet head (1932) is a notable landmark. There are miners' cottages, mining machinery and geological features exposed by mine operations. (George Lansell was the area's most energetic mine owner, and his Fortuna mansion is south of the Calder Highway in Golden Square).
Long Gully was on the Eaglehawk tramline which closed in 1973.
The Long Gully primary school (1878) is on the Victorian Heritage Register. It was closed in 1992. Loddon Valley Highway, Long Gully, is dotted with colonial-period houses, shops and existing and former hotels. The Manchester Arms and Rose of Australia hotels continue. Long Gully has a sports reserve and a swimming pool in Havilah Street.
On Black Saturday in 2009 a fire at Long Gully destroyed 61 houses, burned through more than 350 hectares and killed one resident.
Long Gully's census populations have been:
| census date | population |
| --- | --- |
| 2001 | 3278 |
| 2006 | 3289 |
| 2011 | 3338 |
Further Reading
Ironbark entry