Maidstone
Maidstone, between Maribyrnong and Footscray and bordered on its west by Braybrook, is 8 km north-west of central Melbourne. It is a residential and industrial suburb.
The Maidstone town survey was made in about 1858, and was situated on the south side of the Ballarat Road and east of Ashley Street. A non-vested National School was opened in 1858. The place's proximity to Footscray appears to have inspired its name, as Maidstone and Footscray are close to each other in Kent, England.
Within a few years contemporary descriptions of the Maidstone locality expanded to include present day Maribyrnong. Access to Maidstone from Melbourne was by railway (to the south) and by punts across the river, the northerly one being Raleigh's. The meat preserving works opened by Joseph Raleigh in 1843 on the river bank was on the boundary between Maidstone and Maribyrnong. The site was later to become Pipemakers Park and the site of the Living Museum of the West. South of Raleigh's was the Victorian Powder Magazine, later to be expanded for other military purposes.
In 1903 the Australian handbook described Maidstone: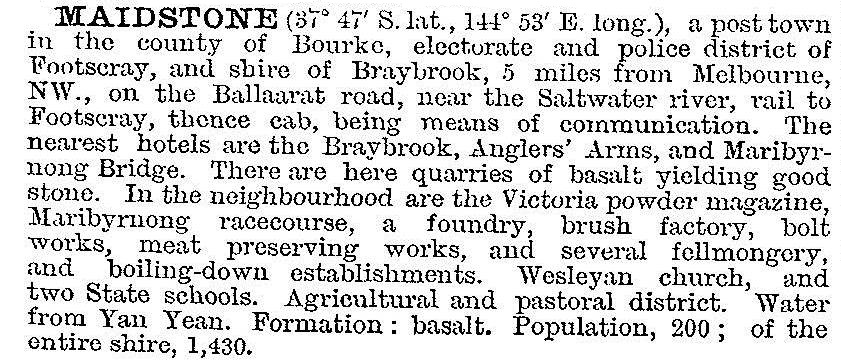 Notwithstanding the industrial activity in Maidstone, the suburb did not attract much residential development because of the absence of a tramline until 1921, and then only to its southern edge. Maidstone relied on the State primary schools at Footscray West (1915) and Footscray North (1921). The outbreak of World War II caused round the clock production at the Maribyrnong munitions and ordnance factories, and a tram extension in their direction, through Maidstone, was opened in 1941.
In the postwar years migrant hostels and cheap land for housing attracted a large influx of settlers. The Midway Migrant Hostel, Hampstead Road, was a major intake area. Originally it was the Maribyrnong Migrant Hostel. The Housing Commission constructed a large housing estate, mainly south of Ballarat Road, extending into Braybrook.
In 1944 the Housing commission reserved a site in Curtin Street for a primary school and six years later three Bristol-type classrooms opened. The enrolments were boosted by overflows from Tottenham and Footscray North and reached 800 in the late 1950s. Maidstone had a public hall in Thompson Street, a Methodist church, Salvation Army barracks and an impressive Roxy picture theatre in Ballarat Road. A Church of Christ continued from then into the twenty-first century. The Catholic church opened in 1962
The north part of Maidstone has a private Medway Golf Club (1936) adjoining the Maribyrnong River. The adjacent migrant hostel area has been reduced to a migrant detention centre and the balance used for student accommodation for the Victoria University. Elsewhere Maidstone has three public reserves and neighbourhood shopping areas. The Highpoint regional shopping centre is immediately north of Maidstone. The primary school closed in 1996. Since then former factory sites have been used for new houses.
Maidstone's census populations have been:
| census date | population |
| --- | --- |
| 1861 | 211 |
| 1921 | 509 |
| 1933 | 1323 |
| 1947 | 2047 |
| 2001 | 6168 |
| 2006 | 6050 |
| 2011 | 7750 |
Among the languages spoken at home as measured at the 2006 and 2011 census there were:
Languages spoken at home
Language
% of population
 
Maidstone
Victoria
 
2006
2011
2011
English
41.5
38.5
72.4
Vietnamese
19.9
19.2
1.6
Cantonese
5.4
5.1
1.4
Mandarin
n/s
3.1
1.9
Italian
2.9
2.2
2.3
Greek
2.6
1.7
2.2