Mentone
Mentone, a sea-side residential suburb on Port Phillip Bay, is 22 km south-east of central Melbourne. Before the formation of the township the area was known as Balcombe, after the name of the occupier of land between Balcombe Road and the Bay, west of Warrigal Road, where central Mentone is now situated. When the railway line between Caulfield and Frankston was opened in 1881 the station was named Balcombe's Road and remained so until 1884.
The land booming 1880s attracted developers J.H. Knipe and Sir Matthew Davies to the area, and Davies was chiefly responsible for laying out the Mentone Township Estate. It was named after the British Prime Minister Gladstone's favourite Italian Mediterranean resort and contains Italian Mediterranean street names such as Venice, Naples, Florence and Como. Whilst the foreshadowed residential development did not equal expectations, the population was sufficient by 1889 for a primary school to be opened. The Australian handbook 1893 described Mentone:

The racecourse in Lower Dandenong Road was one of three in the area, the others being Aspendale and Epsom at Mordialloc. The Mentone site was closed for racing in 1948.
As well as bringing land speculation and a racecourse to Mentone, the entrepreneurs endowed the suburb with large houses and an instinct for private education. Mentone was described in the 1903 Australian handbook: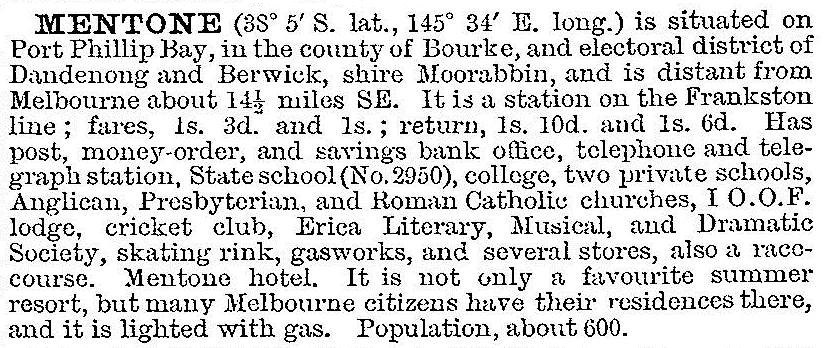 The Catholic church opened a primary school in 1904 and its adherents founded boys' and girls' secondary schools. The Anglican church did likewise in secondary education.
In 1920 Mordialloc and Mentone became a borough, separated from Moorabbin shire. The town hall and offices (1933) were at Mentone. Being positioned on the beach and having a railway connection, Mentone was a frequent destination for excursionists. It was described in the Victorian municipal directory 1933:

Mentone has several secondary schools: Mentone Boys' Grammar (1923), Mentone Girls' Grammar (1899), St Bede's College (1938), Kilbrida College (1904) and Mentone Girls' Secondary (1955). During the 1950s market gardens and farms on the edge of Mentone were subdivided for housing and as the increasing population overcrowded Cheltenham and Parktone primary schools the Mentone Park school was opened in 1968. An early drive-in shopping centre, Thrift Park, was built between Nepean Highway and Lower Dandenong Road in 1958. The shopping centre in Balcombe Road attracted development, including a small department store and a supermarket (1958) stated to be the biggest in Australia at that time. Balcombe Road had neighbouring Beaumaris for its retail catchment.
Mentone's shopping area extends back from the Balcombe Road strip and there is another shopping centre at the neighbouring Parkdale railway station. Mentone's open space is mainly along the foreshore.
Mentone's most famous personality was Annette Kellerman (1886-1975), who lived there in the early 1900s. She was a swimmer, aquatic performer and film actress, performing in Australia and USA.
About half of Mentone's dwellings are row houses, flats and units.
Mentone's census populations have been:
| census date | population |
| --- | --- |
| 1891 | 617 |
| 1911 | 1164 |
| 2001 | 10,954 |
| 2006 | 11,238 |
| 2011 | 11,667 |
Further Reading
Tom Sheehy, Mordialloc-Chelsea: aspects of history, Cheltenham, 1970
Tom Sheehy, A shire preceded three cities: Moorabbin, Sandringham, Mordialloc, Cheltenham, 1965
Leo Gamble, Mentone through the years, Mentone, 2003