Rosebud
Rosebud is a residential suburb and a beach resort on Mornington Peninsula, 60 km south of Melbourne. It is the largest and most commercially developed of the towns south of Mornington, and it became the administrative centre of the local shire in 1976.
Rosebud was named after a local trading schooner which was swept aground by storms in 1855. It was impossible to refloat the vessel, trapped on wide sandbanks in Port Phillip Bay, and it became a local feature for several years. (The sand bars later greatly benefited Rosebud by providing a safe swimming area, making it the peninsula's most popular camping and holiday place.)
Before Rosebud's popularity as a beach resort, it was merely one of the several fishing and boat-building settlements along the bay. A school was opened in 1884 and a jetty was built in 1888. As the jetty did not reach sufficiently deep water for large vessels, Rosebud was not visited by the bay steamers with holiday-makers and excursionists. The best that Rosebud could extract in that regard was visitors carried by horse-drawn vehicles from Dromana. When Rosebud was described in 1903 in the Australian handbook it was a minor place on the peninsula: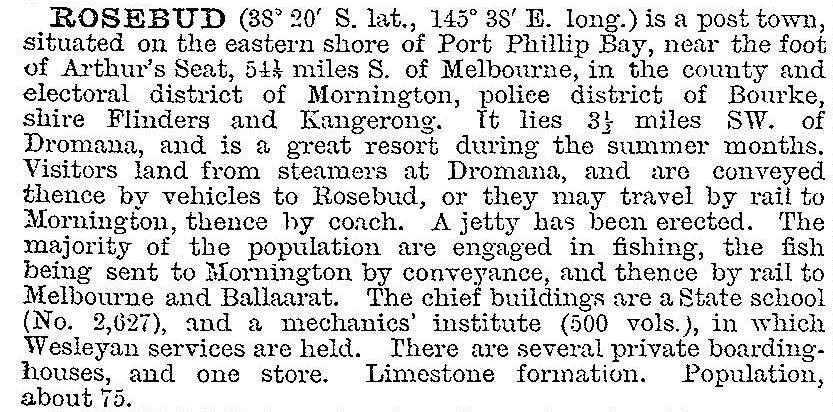 In 1908 a beach-front land subdivision of about 400 lots was promoted at Rosebud – the Clacton-on-Sea estate – an indication of future events, but ahead of its time.
When accessibility to Rosebud was improved by motor cars in the 1920s the village received inrushes of campers at holiday times who found a couple of general stores, a butcher's shop, a garage, a timber Presbyterian church (1923) and a tree-shaded foreshore for putting up tents. Local traders and a foreshore trust set out to exploit the new holiday market, and campers without cars were catered for by bus services from the train terminuses at Frankston and Mornington.
Even with postwar car and petrol shortages families could muster enough for camping or holidaying at Rosebud. Broadbent's guide to Mornington Peninsula (1949) stated that in addition to privately-conducted camping areas and community camps there were a hotel, several guest houses, a host of private weekend houses and foreshore camping for 5000 people, extending for about 8 km from McCrae to Rosebud West. There were recreation facilities, including tennis, bowls and croquet, children's playgrounds and 'first release' films screened nightly in the holiday season. Inland, hikers found dairying, sheep grazing, market gardens and bushland.
During the 1950s inland Rosebud's rural setting fell to suburbanisation. A Model Free Kindergarten and Baby Health Centre was opened in 1953 and Rosebud high school was opened the following year. Rosebud's commercial centre grew from a few shops to over 50 between 1927 and 1954; over half were built during 1950-54.
Until World War II Dromana's population exceeded Rosebud's. By 1961 the respective figures were 1257 and 2150. In 1964 the Flinders shire's works depot was moved from Dromana to Rosebud, and in 1976 the shire's offices and civic centre were also transferred there. Since Rosebud's first jetty in 1888 the extensive shallow water prevented large vessels from unloading goods or passengers. In 1966 a new structure, Rosebud's third, was built into deeper water. By then, though, it was car traffic, not shipping, that was bringing people to Rosebud. So intensive did motor traffic become on Nepean Road, the first stage of the Mornington Peninsula Freeway was built in the 1970s, as a bypass around Rosebud. Suburbanisation was in full flower, along with a hospital, memorial theatre, cinema, Olympic Park and an extensive shopping area; Rosebud Village shopping centre (a supermarket and 17 shops) was opened in 1979 and Port Phillip Plaza, behind Rosebud Village, was opened in 1986. The Plaza has a discount department store, a supermarket and 25 shops.
Rosebud's foreshore retains some of its holiday activities, with a carnival area, considerably reduced camping, boat hire and picnic areas. Urban intrusions, seldom absent from public open space, include a library, kindergarten, sporting clubs and halls along the foreshore.
The Freeway divides Rosebud from Rosebud South, where there are residential subdivisions extending to the foot of Arthurs Seat State Park, three golf courses and the Padua Secondary College (1987). Rosebud secondary college had 1222 pupils in 2014 and Rosebud primary school had 412 pupils.
Council adopted the Rosebud Activity Centre Urban Design Framework in 2012 to guide future planning and development of Rosebud up to the year 2030.
The census populations of Rosebud have been:
| census date | population |
| --- | --- |
| 1881 | 49 |
| 1911 | 153 |
| 1933 | 494 |
| 1947 | 1129 |
| 1961 | 3803 |
| 2001 | 10,808 |
| 2006 | 11,176 |
| 2011 | 12,501 |
Further Reading
Isabelle Moresby, Rosebud: flower of the Peninsula, Melbourne, 1954