Upper Murray Shire
Upper Murray shire (1920-94) was situated in north-east Victoria, occupying alpine slopes, hills and high valleys west of where the Murray River joins the straight line boundary between Victoria and New South Wales. The main town, and the shire's administrative centre, was Corryong. The name was descriptive of the area, as it adjoined the upper reaches of the Murray River. The river was named in 1830 after Sir George Murray, the English Secretary of State for Colonies.
Although the area was remote from Melbourne and Port Phillip it nevertheless came under early pastoral settlement. In 1835 a pastoral run on Bonegilla was taken up, and two years later severe drought in New South Wales persuaded others to venture south. The pastoral run near Corryong was occupied in 1837 and by 1840 most of the upper Murray district was occupied.
The geographic upper Murray in Victoria is probably all the land east of Tallangatta on Lake Hume. The shire, however, was about half that area.
In 1874 the Towong shire was proclaimed extending eastwards from Tallangatta to the Murray River. Curiously, the shire's name came from the Towong pastoral run at the Murray River end of the shire, east of Corryong. After 1900 the Corryong township grew as the centre of a dairying and agricultural district and remote cattle properties. On 5 October 1920, the shire's Corryong riding (which included the Towong pastoral property) and part of the Murray riding were severed and made the Upper Murray shire.
Access to the shire was by the Murray Valley Highway from Wodonga and from Gippsland by the Omeo Highway. There was a railway from Wodonga to Cudgewa (1891-1981).
In 1946 the shire was described in the Australian blue book: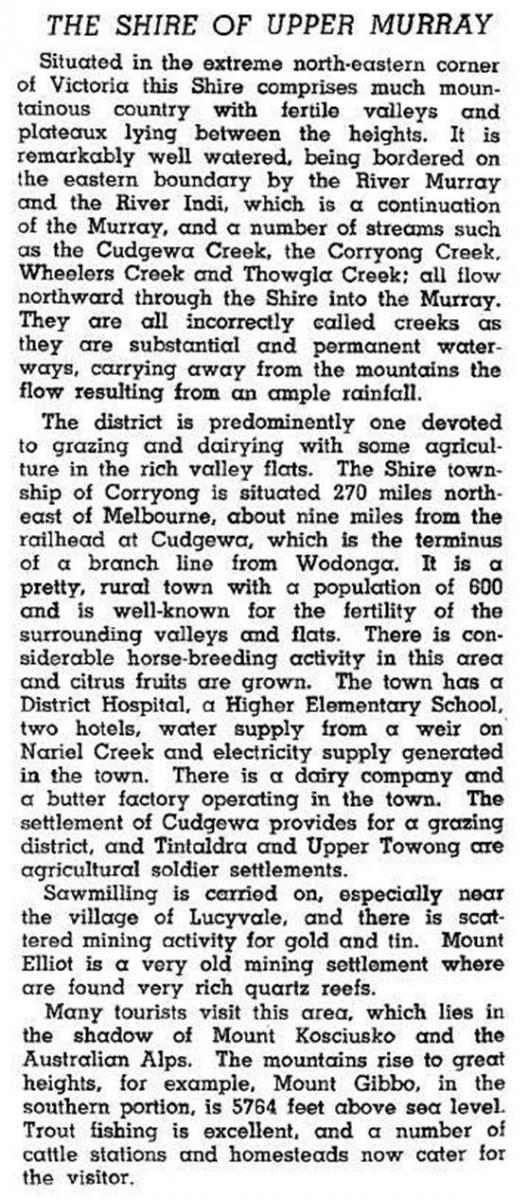 Corryong had a higher elementary school, and soon after World War II it became a consolidated school with pupils bussed in from outlying settlements. The bus runs from Towong and Tintaldra were easy, but the ride from Nariel took longer. Ten schools were closed as consolidation proceeded during 1951-61.
In 1994 farming occupied 43% of the shire's area of 2460 sq km. There were 44,150 meat cattle, 7600 dairy cattle, 31,150 sheep and lambs and 2500 pigs. In 1994 Upper Murray Shire was united with Tallangatta (formerly Towong) shire. The new unit was named Towong.
Upper Murray Shire's census populations were:
| census date | population |
| --- | --- |
| 1921 | 2111 |
| 1933 | 2405 |
| 1954 | 2521 |
| 1961 | 2938 |
| 1966 | 3337 |
| 1971 | 2676 |
| 1981 | 2413 |
| 1991 | 2431 |
The peak population figure occurred before the consolidation of dairying and pastoral holdings, and throughout the 1966-91 census periods half the shire's population resided in Corryong. In 1921 Corryong had about one quarter of the shire's population.
Further Reading
Royal R. Miller, The Upper Murray: a centenary survey with special reference to the Corryong district, Melbourne, 1934
T.W. Mitchell, Corryong and the 'Man from Snowy River' district, Albury 1981
Corryong, Cudgewa, Thowgla, Tintaldra, Towong and Towong Shire entries